boat snacks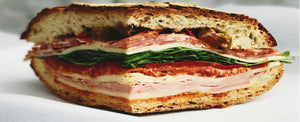 Food to Take on a Pontoon Boat Pontoon-Depot
Food Ideas if You Don't Have a Grill On-Board
By: PonoonOpedia
There's a wealth of information online available and on Pontoonopedia about cooking on your pontoon boat, using a grill or BBQ. But what happens when you don't have a grill on-board? You might need something that you can eat one-handed, that you don't need to heat up on board, but still tastes delicious… if so I have some great ideas for you that are both tasty and convenient.
I can't take the credit for most of these, as before I bought my pontoon grill set-up I just used to take pack lunches and small picnics to have when we beached our boat up. To be honest, I am a cheese and ham type of guy, and my family soon became a little bored of that. I asked them to investigate what else could be great food to take on a pontoon boat that doesn't require heating ,cooking or grilling.
Here's just some of their ideas which I hope to give you some inspiration if you are looking for pontoon boat food ideas for a party, picnic, or just a day's fishing on the lakes. Whether it's a snack idea, something for a lunch or dinner, or party food, you should find something interesting below you can try for yourself.
Food to Take on a Pontoon Boat
So here are those pontoon boat food ideas, in no particular order. If you do decide to use any of these ideas, then I recommend you have the following items at hand:
Plastic zip lock bags
Aluminum foil
Paper plates
Plastic drink coolers with spouts
Portable cooler (can keep things hot as well as cool)
Thermos flask for hot water

 

(or keeping hot dogs warm!)
12v beverage warming device

 

(stick it in your mug for a hot drink)
Garbage bags
I also always carry a marine-grade cooler, with the Yeti Tundra being my personal favourite. You can see thearious cooler sizes available on Amazon various cooler sizes available on Amazon.
Ideas That are Fast & Easy
Some people won't take bread for sandwiches, purely because bread doesn't do too well in the heat. They will also worry about taking food with them that needs to be kept cool. But it doesn't have to be that way. You can take a cooler box with you or keep things cold in a bag with frozen water bottles for a few hours.
Handy Hint: Scroll down past the food ideas as I have put together some recommendations on some great gear you can use make the food you take on your pontoon boat even more enjoyable. 
Cooler Corn on the Cob
I love this idea, it's so ridiculously simple yet effective and you can do it before you leave your house really quickly. All you do is buy a cooler box (perhaps like this marine grade cooler on Amazon). Throw the corn in and cover it with boiling water. Then seal the cooler box back up.
Bring some spray butter with you, and when ready out on the pontoon boat, open up the cooler. Make sure you bring some tongs because the water is still going to be steaming hot. You can take this approach for a big party of people as well.
Cooler or Thermos Hot Dogs with Steamed Buns
You can use exactly the same idea with hot dogs. Before you leave for the day, quickly boil up some hot dogs, then throw them into a smaller cooler with boiling water covering over them and they will start to cook. You can even use Thermos flasks (you can fit loads of dogs in this 64 oz bottle) for this as well. They will remain warm and cooked for hours and can be eaten at any point during the day.
Once ready to eat, place a bag of bread rolls in the sun for 15 minutes in the sealed bag and you have steamed rolls. Then bring the hot dogs out with ketchup and mustard! Just wow… just wow.
Handy Hint: We also have some pontoon boat grill ideas with meat and vegetarian options. 
Chips… But Only Pringles!
If you take chips, make them Pringles. Why? Because you have less mess as they kept in the tube rather than splitting open large chip bags where the crumbs can go everywhere. I hate crumbs on my deck!
Candy, Popcorn & Trail Mix Containers
Try filling cylindrical plastic containers that have lids with items like trail mix, popcorn and even M&Ms (from the cooler). These are perfect for placing in the boat cup holders and for passing around to your guests.
The food contents can also be poured out into semi-wet hands without making the rest of the dry goods soggy. This snack idea never fails. Simple, easy, and quick.
Sliced Fruit and Veg
Fruit will help to keep you hydrated on hot day, and it's easy to pack too, as is sliced veg. We always slice ours up before hand, and then take some form of dip, all wrapped up in aluminum foil and keep in a small cooler box.
Ideas You Will Need to Prepare Before Hand
Don't be worried about taking warm food onto your pontoon boat. If you cook something beforehand and put it in an empty ice chest or portable cooler, then it will stay warm all day… just as long as you don't add ice!
If it's food that needs to keep cool, obviously you can use a portable cooling box, or even use individual foil packs or aluminum foil and keep the food out of the sun in a shaded area for a couple of hours.
Chicken Salad on Wheat Thins
You can create this mix in advance of your trip, and then bring it out once everyone is hungry. All you do is get a couple of cans of shredded white chicken, some sliced grapes, chopped almonds, diced celery, dried cranberries, chopped scallions, garlic salt and a little mayo to moisten it up.
When ready, spoon the salad mix up onto wheat thins.
Jack Daniel's Pulled Pork with Slider Buns
Cook Jack Daniel's pulled pork from Sam's Club in a crock pot in the morning, and then bring the crock pot on board your pontoon boat. It will keep warm if left covered for quite a few hours.
We just slide our crock pot under a seat and leave it there. Then when ready to eat bring it out with slider buns a coleslaw.
Tasty Tacos in a Doritos Bag
This is an easy, delicious and portable idea. Simply make your taco meat mix up the night before and then put it into a sealed container.
When on your pontoon, open up a bag of Doritos and crush them up a little. Then you can add the meat, lettuce, onions and cheese in from your container to tacos in the Doritos bag. They will taste awesome – give the bag a shake up for maximum taco-ness (if that's a word…).
Grilled Chicken and Steak Sliced Wraps
This is one of our favorites. All you do is marinate some chicken the night before, then grill it up in the morning at home before you go on your boat trip. Alternatively, you can use thin steak slices, they work just as well.
You can then make some really tasty wraps with lettuce, onions, peppers, salsa, black beans, sour cream, guacamole, and virtually anything else that goes with it. It's a big hit!
Hawaiian Bread Rolls with Your Choice of Fillings
Make some Hawaiian bread rolls. Just slice the entire bread roll horizontally then layer with your favorite deli meats and cheese, mustard mayo or your preferred spread. Then put the layer of bread back on, put back in the cardboard tray, slice them into squares or leave whole for pull apart, slide tray back into wrapper and put in a portable cooler.
You can make a few different ones with various meats and toppings. Write on wrapper what they are so that there is something for everyone and they don't get mixed up.
Snack Kabobs (Vegetarian, Meat, or Mixed)
Break wooden kabob sticks in half and you can create snack kabobs with different fruit and vegetables, including grape tomatoes, olives, chunks of string cheese, slices of pepperoni and more.
Make sure that you wrap them in aluminum, clearly label them, and leave them packed into your portable cooler box.
How About a Portable Grill for the Beach or Deck?
Even if you don't want to buy a grill and mount for your pontoon boat, you can still buy portable grills that you can set up on the beach, so you can the cook brats, hot dogs, burgers, and vegetable kabobs.
If you do decide to buy a portable grill then I would also recommend that you take cheese balls, summer sausage, cut up watermelon and cantaloupe. Anything tastes better on whilst on the beach and your pontoon is tied down!
In the past I have used the Smoke Hollow portable grill. It's affordable, robust, and is easy to transport. It makes the cooking of burgers and sausages ridiculous simple as well as giving an awesome smoky taste to any meats.
Alternatively try wrapping some potatoes, beans, onions, spices, olive oil, and chicken (or other meat) into some aluminum foil. Then throw the foil package onto your portable grill once you are on the sandbar – it's easy and tastes great.
Use a Portable Refrigerator
Our pontoon boat is very much an extension of our home. What is easy for my home should also really apply to my boat. And that includes refrigeration. I have a small portable refrigerator that plugs into the cigarette lighter port. It keeps food frozen and food cold if we're out for a few days or a weekend.
The one I have seen pontooners use most on their boat is this wheeled electric cooler fridge. It has tons of room inside, and once on your pontoon can be plugged in so it's ready to go. You would pack it with food before you leave for the day as it's also a standard cooler box, then get it connected to the power supply once on the pontoon boat.
Dietary Restrictions
If you're preparing food for a group of people other than your own family, it's important to consider what their dietary restrictions are. Not everyone's diet is the same, so here are some things to think about.
Food Allergies & Intolerances
Before you plan and prepare any food for the boat trip, ask the passengers if they have any allergies you need to consider on their behalf. One of the biggest ones you probably already know about are nut allergies, with lesser known intolerances including gluten, beans, dairy and shellfish.
If you get this wrong, it can be very dangerous so always check before hand to find out what the passengers own special food requirements are.
Health Conditions
Older people in particular can have medical conditions that require a healthier approach to food. It could be that they suffer with high blood pressure or diabetes meaning you should be mindful of the types of food that you prepare and pack.
Lower salt food ideas are ideal for those with blood pressure; processed meats will have high salt levels so try not to include those. Diabetes sufferers will appreciate low carb and high protein food choices.
Dietary Preferences
Passengers with vegan and vegetarian lifestyle choices should be made to feel at home with something that is specifically prepared for them. Both of these types of diet have become increasingly popular over the last decade, so make sure you can offer something in this range for your pontoon guests.
The Internet is a great way to find suitable options, and in particular for vegan diets where you might not be familiar with that can and can't be included in a snack. Take a look at the Vegan Society website for some great ideas that are simple to prepare.
Keeping Your Food Safe to Eat
If you don't want to spend money on a portable refrigerator, or just have concerns on how you can keep your food safely stored when on a long day's fishing trip or day's leisure on the water, then here are some tips.
By following the guidance below, not only will your pontoon boat food still taste great no matter when you eat it, but it will still be safe to eat!
Pack & Store Smart
By far the best way to ensure that you keep your food safely stored when boating, is to only pack stuff that doesn't need keeping cold in a refrigeration unit.
If you also want to keep your belly feeling full for a long day on the water, it's essential that you think about foods that are high in protein and have whole grains in them.
Peanut butter sandwiches are a winner here as they tick that box, but also don't need to be kept cool. As long as they are wrapped in aluminum and kept in the shade, there should be no contamination risk.
On a similar tip, fruit is also a great food idea, in particular apples and oranges. They also contain higher than average amounts of fiber like whole grains do, keeping your passengers feeling full for longer.
Keep Your Food Cool
In the list of food ideas listed above in this guide, there are some options that do need to be kept cool, ideally refrigerated. Now we know that's not always possible on a pontoon boat, so what can we do?
As previously discussed, a portable cooler box will help, and I have listed a couple of recommendations further up the page in this guide. By using a cooler box with ice packs, you can pack your food with the peace of mind in knowing it will keep safe for hours.
If you don't have ice packs, then a simple solution such as a frozen water bottle can work just as well when thrown into the cooler box.
Keep Your Food Away from Water
It's important to protect your food and snacks from the water. Why? Because fish, and fresh water in particular can have bacteria in them which could be very bad for you if ingested.
Pack everything into sealed plastic containers, zip lock bags, or at the very least very tightly wrapped aluminum foil. You don't want any water to get into the packages or touching the food.
Where you store the food on your pontoon boat is also really important. Have it stashed somewhere away from the sun and water. If you are fishing then you don't want the food to be close to the area where you are pulling fish out onto the deck.
When it comes to eating your snacks, always wash your hands before handling the food. Those anti-bacterial hand wipes work perfectly for this, as you want to avoid cross-contamination at all costs.