What Do You Know About Using Household Cleaners On A Boat?
What Do You Know About Using Household Cleaners On A Boat?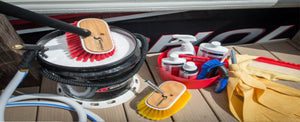 By: Pontoon Boat & Deck Magazine
Keeping your pontoon or deck boat in showroom-like condition usually isn't accomplished by using your run-of-the-mill household cleaners. For example, did you know that common dish soap can eat into gelcoat, remove wax and polish, and bring on early aging and oxidization? That's why Shurhold Industries offers a set of Clean-N-Simple Tips to ensure you don't use a product that's not safe for your boat.
Shurhold's marine-specific concentrated Brite Wash is safe to use anywhere on board and still cuts through dirt, grease and salt residue. There's no need for re-waxing or cleaning away water spotting. Environmentally friendly, it's completely biodegradable and can be rinsed overboard.
Rather than using bleach, which is effective but quickly dulls gelcoat, changes vinyl color, degrades fabrics, and corrodes fittings (even stainless steel), SMC Spray is the bleach-free and environmentally friendly alternative that removes the toughest of stains and is safe to use on all surfaces.
Likewise, the ammonia in home glass cleaners can make isinglass, Plexiglas, plastic or touchscreen electronics material brittle. Shurhold's Serious Shine is a one-stop detailer that cleans, polishes and protects any surface commonly treated with glass cleaner or spray wax in one breezy step. UV inhibitors and anti-static and water-repelling properties makes it an ideal marine maintenance product.
A great companion to Serious Shine, Microfiber Towels are very absorbent and can gently lift away dirt, moisture, grease and stains without scratching delicate surfaces.
And when a strong restoration compound is needed, Shurhold's Buff Magic is designed to do the job well; formulated with jewelers rouge, it actually breaks down as it's being used, effectively becoming finer with use until it's a polishing agent. Thus, this product gently and thoroughly removes oxidation, stains, rust, and surface scratches.
And last but not least, the Pro Polish Wax is designed to seal the pores of fiberglass with a long-lasting UV- and water-resistant finish – and, as a bonus, leaving a deep shine behind.
Price ranges are as follows: a 32-ounce bottle of Shurhold's Brite Wash is $11.98; a 32-ounce spray bottle of SMC is $11.98; a 14-ounce aerosol can of Serious Shine is $17.98; a 3-pack variety of Microfiber Towels is $18.98; and a 16-ounce bottle of Pro Polish Wax is $22.98.
For all your accessories and/or vinyl flooring visit Pontoon Depot's shop site.