What to Wear on a Boat | Pontoon-Depot
What to Wear on a Boat | Pontoon-Depot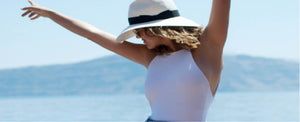 By: A Pair & A Spare
I know I know, 'What am I going to wear on the boat' is pretty much at the top of the list of First World Problems, up there with inexplicable anger when your phone battery dies and eating so much you get sleepy. Regardless, if you're lucky this Summer you might get invited on a boat. Yay! Rejoice because a) drinking Aperol Spritz's in the sunshine on the water is what Summer is all about and b) you don't own said boat (ask anyone who owns a boat and they'll tell you that it's like throwing money out the window).
Wearing: Denim DIY cut offs, Her one piece, Ray Ban sunglasses, Market Flats, Hat from Athens

Plan for all weather conditions

No matter what the forecast says, or what the weather is like before you leave, be prepared for both cold and windy and blazing hot sunshine. Pack sunscreen and a hat (make sure it fits properly as that pesky wind can strike at any time) as well as something warm to throw on like a denim shirt (like this one) or utility jacket (like this one).

Choose the right footwear

Make sure it's something that can slip on and off easily and something with a bit of grip. I'm all about a flat but a wedge could also work (although is much less practical). Sandals (like these) or converse (like these) are perfect – just make sure they have light coloured soles. Black soles that mark the deck are a big no no and the first rule of boating etiquette.

Keep clothing basic
Don't wear anything that is too precious so avoid silk and anything that you wouldn't want getting wet – Denim is a great hardy fabric to wear – these denim shorts or these ones would be perfect. Hats and discarded items of clothing are notorious for flying off the boat too, so be careful!

Take a big bag

I always take a few outfits with me when I go on a boat, mainly because sometimes your clothes get wet or you want something more comfortable to wear. That's where a big bag will come in – a large tote that can handle a few changes as well as your magazines and beauty products.

Take a pair of sunnies (or three)

Forgetting to bring a pair of sunglasses will truly ruin your day. I always take more than one pair because I find that friends sometimes don't bring their own – sharing is caring! I just make sure I get them back at the end of the the day 🙂

Arrive with your swimsuit already on

Space is a big issue on boats and the changing facilities are usually below deck in the toilet. Small and cramped and terrible if you get seasick so spend as little time in there as possible. Bikinis are just as appropriate as a one piece, but I love that my one piece doubles as a bodysuit as soon as you throw on a pair of shorts. This looks like the perfect one piece, and I love this nautical swimsuit.

Consider Short Skirts or dresses carefully

Not only are these a bad idea in windy conditions but boats are often 2 levels. You spend a lot of the day climbing up and down the ladder between them so don't wear a skirt of dress. The upper deck is where all the sunbathing happens too! A romper like this one is a great alternative.

Other tips

If you arrive in your swimsuit don't forget to bring your underwear. A kaftan is great for throwing over your swimsuit while in the cabin or eating lunch (and is super sun smart). Don't be afraid to get into the boating spirit. Nothing says nautical like blue and white with a touch of red and some tan accessories. Oh, and on the practical side – fashion doesn't apply when you feel like there's a need to put s life jacket on (when you're inverting or traversing the seaway for example), and don't ever get in the water when the engine or propellor are still on.


For all your accessories and/or vinyl flooring needs visit Pontoon-Depot's shop site.