Crestliner Pontoons: Forged with Strength. Defined by Durability.
Crestliner Pontoons: Forged with Strength. Defined by Durability.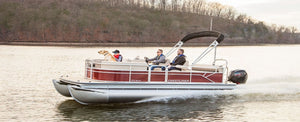 By: Crestliner
Crestliner is adding to its popular pontoon line-up with the brand-new Sprint Series, an entry-level pontoon that's ideal for novice boaters and those looking for on-water versatility at an impressive value. The Sprint comes nearly a year after Crestliner re-entered the pontoon market with the successful Rally Series.
"The Sprint fills a hole in the pontoon market," said Crestliner President Eric Hendrickson. "There is a large contingent of boaters out there looking for an accessible pontoon they can hop into without hassle and use for a variety of on-water activities—from fishing to cruising and everything in between. Add to that an exceptional value, and the Sprint is exactly what a lot of families are looking for."
The Sprint Series is available in three sizes—16 feet, 18 feet and 20 feet—and comes in two layouts: Cruise and Fish & Cruise. Every size and layout boasts an open floorplan and smartly configured seating, including a captain's seat, passenger seat and a stern lounge bench with storage. A nicely featured helm station with removable windscreen, rocker switches, gauges, and room to mount electronics instills confidence in captains of any experience level, while a series of gates and courtesy lighting add security and safety when underway.
The Fish & Cruise layout features Deluxe fishing seats in the bow, bow storage compartments on both the port and starboard, and a 15-gallon aerated livewell in front of the console. The Cruise version includes port and starboard bow lounge seating for stretching out and relaxing in the sun. Seven drink holders, a 4-step boarding ladder and 9-foot bimini top on both versions add convenience to every outing, and standard Mercury Marine FourStroke power delivers excellent performance.
Owners can choose from three exterior colors for their Sprint pontoon: Black Metallic, Maroon Red or Slate Blue. Optional seating and flooring upgrades, audio package and ski tow further personalize the pontoon. Add a skin kit with lifting strakes to up the performance ante.
"The Sprint Series delivers comfort and a simple, yet functional design at an exceptional value," Hendrickson said. "Plus, it's filled with Crestliner's quality and attention to detail.  Hop onboard, and start enjoying your time on the water."
For all your accessories and/or vinyl flooring visit Pontoon Depot's shop site.