Get Your Pontoon Boat Ready for the Season: Springtime is Upon Us!
Get Your Pontoon Boat Ready for the Season: Springtime is Upon Us!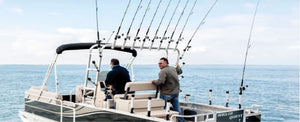 By: Pontoon-Depot, Amy Cabanas
Pic By: PontoonPedia
Spring is 10 days away!
What could be better than starting off the FIRST DAY OF SPRING with Pontoon-Depots' favorite season …. Fishing! 
Pontoon boats are great for fishing, family get togethers and of course having a party with friends. Though, bear in mind, you'll need to make sure you have everything you need before the season starts or the party begins. First, you want to ask yourself a few questions before getting out on the water. What do we need to have fun, yet be safe. Additionally, you want to be ready for the season in general with any new items to make your life easier on the water or more fun. Either way make sure you check everything off your list so that you can have as much fun as possible.
Considering making a new pontoon boat purchase, be sure you understand that the size does matter. Sixteen to nineteen-foot boats are best for small bodies of water. Twenty to twenty-two-foot boats are best for lakes & rivers, and twenty-three to twenty-seven-foot pontoons are the best for rough water and they can accommodate up to fifteen people. This is great news if you are close to the ocean and you have a big family or a large circle of friends.
Whether you enjoy fishing, sunbathing, or water sports, all of these are awesome options when you own a pontoon boat. But it's also key to make sure everyone is safe and having fun. For lounging & sunbathing you may want to consider a larger deck and a super cool sound system, these are all accessories Pontoon-Depot can help you with. For those of you with big families and large parties, don't forget that storage should be top on your list for food and drinks. Also, make sure your pontoon is equipped with lots of seating. And lastly, for those of you who enjoy water sports, make sure you have easy access for your pontoon boat into & out of the water.
With all this being said, durability of your accessories, seating and flooring will be important. If you have a pontoon boat already but it's in need of some upgrading, consider the newest woven vinyl flooring over the old school traditional boat carpeting. I promise you that you will be much happier with it, when it comes to mold, general cleaning, and mildew, oh, and it's also slip resistant!!
Above all things, make sure to look for a warranty that covers most parts and labor for everything on your boat, including the electronic components, that are most prone to weather-related failures. 
If you check all these boxes, you're sure to have a great boating experience with your pontoon! 
For all your accessories and/or vinyl flooring visit Pontoon Depot's shop site.