Polaris Industries Looks to Make a Splash in Pontoon Boats
Polaris Industries Looks to Make a Splash in Pontoon Boats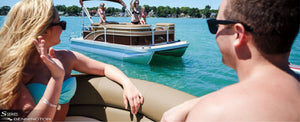 By: Motley Fool
The powersports vehicle maker looks to reenter the water market after leaving over a decade ago.
After a 14-year hiatus, Polaris Industries (NYSE:PII) is taking the plunge into watersports again by acquiring pontoon boat maker Boat Holdings for $805 million cash.
The powersports vehicle manufacturer exited the industry in 2004, selling both its personal watercraft (PWC) vehicles and powerboats because of changing industry dynamics. Rising costs and a lack of "commonality" with its existing powersports business led to the exit.
The market has apparently shifted once more as Polaris now says its customer base has a lot in common with boating -- 30% of them also own a boat. Buying Boat Holdings immediately catapults Polaris to the top of the pontoon market because it commands 26% of the industry.
Making waves
The boat market has been soaring. The U.S. powerboat market is an $8 billion opportunity, with pontoons one of the largest and fastest-growing segments. Polaris points out that pontoon sales have grown at an 11% compounded annual rate since 2010, though it may be starting to slow.
According to Statistical Surveys says the pontoon market grew 7.2% last year, but notes that some markets like Houston were devastated by Hurricane Harvey and finished down for the year. Prior to the storm, however, sales had been positive and many large markets still enjoyed double-digit growth. Fort Wayne, Indiana, for example surged over 22% for the year.
Pontoon boats are a versatile vessel as they can be used for fishing, sports, cruising, and day trips. That latter part is key because rival boatmaker Brunswick (NYSE:BC) -- which Polaris used to have a business relationship with when it was in the marine market -- says that overnight trips with boats are fading. Industry site Boat Industry quotes Brunswick's freshwater boat group President Jeff Kinsey as saying, "There's been a clear shift toward day boating, and that speaks directly to the pontoon with its seating capacity, its open space, its amenities and its comfort."
National Marine Manufacturer's Association data that shows where pontoon boat market share has remained steady at around 20% of the market for the past five years, cruisers with overnight facilities have just a 3.2% of the market.
Riding the rising tide
Boat Holdings generated $560 million in revenue last year with earnings before interest, taxes, depreciation, and amortization (EBITDA) of $75 million. Polaris says that if you take into account the net present value of the tax benefits from the deal of $100 million, the purchase price represents a multiple of approximately 9.5 times Boat Holdings' EBITDA. The deal is expected to add $0.10 per share to Polaris' earnings depending on how sales do over the next few months.
Polaris has been eyeing a return to the marine market for four or five years, but couldn't find the right spot to jump in. That changed with Boat Holdings, which was originally explored last year, though Polaris CEO Scott Wine said the opportunity wasn't right then.
Boat Holdings brings with it four brands: its top-selling Bennington, which generates 70% of the company's sales; Godfrey, the third best-selling pontoon brand; Hurricane, the leading deck boat brand; and Rinker, manufacturer of sterndrive and outboard powered runabouts and cruisers.
The latter will put Polaris in competition with leading powerboat manufacturer Malibu Boats(NASDAQ:MBUU), which last year bought Cobalt Boats, the top maker of 24- to 29-foot sterndrive boats.
While the acquisition brings Polaris Industries back into the marine market, it really is a different one than it left a decade and a half ago. It's a different demographic that buys pontoons compared to those buying personal watercraft vehicles like Kawasaki's JetSki or Bombardier's Sea-Doo. 
Millennials are targeted by PWC dealers, but boat registration tracking firm Info-Link Technologies says younger families are buying pontoons and baby boomers are selling their PWCs.
Yet with the biggest manufacturer in the fastest-growing boating segment, Polaris should be able to make a big splash once again. 
For all your accessories and/or vinyl flooring visit Pontoon Depot's shop site.