Pontoon Boat Interesting Facts about Maintenance
Pontoon Boat Interesting Facts about Maintenance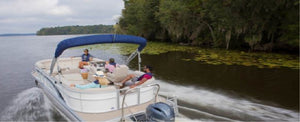 Picture By: Bennington-Yamaha

Q: Who makes the best pontoon boat?

A: Top manufactures around the world are:
Premier 290 Grandview
Princecraft Vogue 25 XT
Manitou 23 Legacy
Aquapatio 250 Express
Bennington 2575 RCW I/O Sport Tower
Starcraft Magestic 256 Starliner
Sun Tracker Regency 254
Harris Flotbote Solstice 240
Lowe X250
G3 Sun Catcher X322 RF

Sylvan being on the toppers they changed the idea of traditional shaped round pontoon to tubes 27" are used. Eventhough few of the higher pontoon models offers smooth handling in sea and speed, there priority seems customer comfort being cushy and diverse. Some of the lower end models can be used as legit tow boats for water skiing and surfing. Shallow nature of pontoons reduces risk of underwater damage and floating around unevenly. Bennington and Starcraft supplies the best pontoon boat transoms for integration and sale as separate module by selected boat dealers.

Q: Where is the pontoon boat's vin number located?

A: For each boat VIN number stays unique and precise. It's generally named as HIN (HULL IDENTIFICATION NUMBER). As per the boat safety act released in 1972, all the boats should have mandatory HIN – 12 characters indicated at the upper right corner without hyphens or space mostly to the rear transom. Moreover they should be continuous. It generally serve as an important indication of Boat Safety.

Q: Where are pontoon boat registration numbers placed?

A: The Registration numbers of a pontoon boat has to be clearly indicated on the forward half of the boat. It should be affixed, painted and embarked on an imported sheet to the bow side. It must be read from left to right on the sides. Contrast colors with bold letters (3") and should be in block fonts. Other than the registration number and designs the registration number should be 24 inches.

Q: How wide is a pontoon boat?

A: Deck widths are around 8.5 feet for 24 foot long boats, and can be as narrow as 6 feet for 16 foot long pontoon boats.

Q: How much does a pontoon boat weigh?

A: An average pontoon boat weighs around 2,200 pounds (998 kilos), including the motor, and hold around 2,000 pounds (907 kg) of people and gear. The weight of a pontoon boat trailer is approximately 1,200 pounds (550 kilos).

Q: What's the fastest pontoon boat?

A: The fastest pontoon boat of the world is said to be the one owned by Brad Rowland.

It runs at a pace of 114 miles per hour and has triple Mercury Pro Max 300 HP engines. The default rectangular shape may not help to accelerate the speed but the motors will enhance the speed by increasing the number of motors attached. We can not only see it but hear the boom. Special models have custom designed pontoon boat transoms to alleviate the performance and buoyancy in water. It is said to scream on water!

Q: What are pontoon boat lifting strakes?

A: A little bulge of metal that goes on the bottom and to the side of the pontoon is known as the lifting strake. It helps the boat get up on a plane rather than plowing through the water. Depending on engine selection, addition of lifting strakes decreases splashing 00and increases top speed as much as 4.8 miles per hour. Lifting strakes are recommended for engines rated 115hp or greater and for boats exceeding 30 mph, for optimum performance. They are also recommended for 90 hp or greater on boats with twin elliptical pontoon.

Q: Are boat clubs worth the money?

A: In a situation in which boat ownership is filled with difficulties and expenditure, boat clubs are worth the money. Clubs are more affordable than owning a boat.

Q: Are boat registration fees tax deductible?

A: The fees for registration and tags is only deductible if the vehicle, boat, trailer, etc., is used for business purposes and then they can be deducted as a business expense. This benefit can be availed of only if you have a licensed charter boat or commercial fishing vessel. Auto and boat registration fees are personal property taxes and can be deductible, if they are based on the value of the vehicle. Sales tax can be deducted only in lieu of a state or local income tax deduction, so you should figure it both ways and pick the one that gives you the lowest tax.