PONTOON BOATING SAFETY GUIDELINES & REGULATIONS FROM STATE TO STATE
PONTOON BOATING SAFETY GUIDELINES & REGULATIONS FROM STATE TO STATE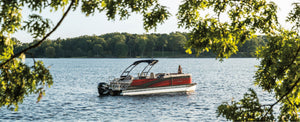 By: HarrisBoats
Recreational boats create wonderful opportunities for memorable family times, romantic cruising, or parties with friends. But owning a boat also carries certain responsibilities, and smart boat owners should know how to keep their guests safe on the water.

Adhering to marine laws is fairly simple, despite varying guidelines from state to state. The basic principals tend to be the same, so operating with common sense is the best place to start. Consulting the guidelines for the particular state you intend to boat in is step two.

See below for links to boating regulation guides for all 50 states.
THE RULES OF THE WATER
As with any form of transportation, boating carries its own set of rules and regulations for both boat operator and any guests onboard. Standard roadways are governed with state and federal laws, and waterways are protected and monitored in similar fashion. Guidelines that can vary from state to state include:


Granting right-of-way and passing on a particular side given the situation
Minimum operator age
Mandatory life jackets for everyone onboard
Illegality of operating a watercraft under the influence of drugs or alcohol
Towing restrictions
Boating license and insurance
Good advice before hitting the lakes is to carefully study your state's requirements and adhere to them fully. Just as automobile drivers can be ticketed or arrested for irresponsible behavior on the road, boat operators can be fined or imprisoned for reckless behavior. Even worse are the prospects of injury or death.

If the full set of guidelines in your state is overwhelming, at the very least make sure to watch your speed, stay alert, lay off the alcohol and keep passengers from getting rammy. Too much fun can quickly turn into no fun.

Click on any state below to read its boating guidelines: