Pros & Cons Of Pontoon Boats – Why Other Boats Don't Come Close.
Pros & Cons Of Pontoon Boats – Why Other Boats Don't Come Close.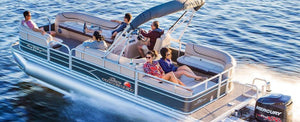 Today I would like to talk about one of my favorite subjects, the pros, and cons of pontoon boats.
Boating was definitely something that I did not grow up doing. In fact, I grew up in a town that had no lakes or rivers that were big enough for a dingo.
Well, I guess you could use a dingo but you would be doing it at your own risk. River Bosnia, as you guessed it, in Bosnia, was not very friendly for swimmers, let alone boaters. It is filled with underwater plates that create whirlpools and take lives annually.
But my passion for boats, I believe, comes from my genes and ancestors that lived on Croatian coastline and the islands. Also, the fact that I spend every other summer of my life there. Also, the honeymoon.
By the way, if you have not visited Croatia you don't know what you are missing, the country is amazing. Living there for a few years made me love it even more.
When we moved to the states a couple of decades ago, we came to Boston. And as you may know, Boston has plenty of water.
There are rivers, like Mystic and Charles, countless lakes, and of course the ocean. I know you are not supposed to touch Charles River for its pollution but boating is safe. Right?!
The Beginning
When I started looking at boats I always thought about Croatian coastline and its beauty. Deep blue sea, rocky beaches, and crystal-clear water. I imagined having a small yacht that I could use to take my family out for some island hopping. Enjoy the sunset while sipping a homemade wine and authentic seafood.
But then I woke up and I realize there are no such things here.
Bummer!!
The Atlantic Ocean is not The Adriatic Sea. There are no rocky beaches, crystal-clear water or islands that you could go visit. Well, there are a few but there is nothing exciting about it, nothing that I would want to go see and enjoy.
What you can find here are large waves and the smell of rotten algae during the low tide.
Yummy, right?!
At that point, I decided that the ocean sailing is not something that we would enjoy.
Yet, I did not want to give up on my dream of owning a boat. And I knew how awesome that would be for our daughter and the memories we could create.
So, I kept on researching my options.
Massachusetts has a lot of lakes, and so does New Hampshire, which is only an hour away. So, I figured, why not explore that option.
I've talked to friends about their vacation spots and a lot of them mentioned Lake Winnipesaukee in New Hampshire. Everyone said they loved it.
So, I decided to take my family there on vacation for the firsthand experience.
We loved it!!
There was so much we could do there. There are beaches everywhere and to my surprise, a lot of boats.
The First Encounter
There I saw, for the first time, a pontoon boat.
I must admit I was not overly excited about it. I had this idea in my head that boat should be V-shaped and I was sticking to it. I am not buying that thing on those 2-round things. No Way.
However, it looked very comfortable.
So that night, thanks to Google, I found out what that thing was. It was a pontoon boat.
I have never heard of one before but looking at some pictures it piqued my interest. And the more I was looking at it the more I liked it. And the most important part is, my wife thought it was great. She loved it.
The Decision
Every year Boston hosts many different shows in its Convention Center. Among others, there is a boat show. We usually only see the car show and sometimes the RV show, but this year we decided to check out the boat show. We have decided to buy a boat after all.
I must tell you if I knew the boat show was this great I would have spent my money on this rather than cars. It was amazing. The selection is insane and you can find just about anything that you are interested in.
Walking around we stumbled upon pontoon boat. It was beautiful, shiny, almost glowing in well-lit convention hangar. I wanted to say something to my wife but she was already getting up there and talking to one of the hostesses. (Is that what you call them?)
Anyhow to make the story short, my wife loved it, I had no say in it, and we now own a pontoon boat. Isn't that a story of us guys?
But here is the thing. I loved it too. I just pretended I was interested in something else while adding extra accessories to this boat. It works every time, you should try it with your significant other.
Here are some pros and cons of pontoon boats that I looked at when making the final decision.
Advantages Of Having A Pontoon Boat
There are so many pros of getting a pontoon boat that I don't know where to start. I loved my boat from the first day I got it.
The most important advantage of the pontoon boat, for me, is that it is perfect for family and kids. It is safe, spacious, and you can do many things on the pontoon that you can't do on a regular V-shaped boat. You could install a portable boat toilet or a nice pontoon enclosure to keep you warm and dry.
Great For Fishing And Skiing
I'm not a big fisherman but I like to cast a line from time to time and fishing from a pontoon boat is as good as it gets. Having so much space, and a chair, in the back of the boat makes that even more enjoyable. I don't think you can get more comfortable than that.
If you get a strong enough engine it is great for watersports like skiing. Yes, you can actually do that with a pontoon boat.
Simple To Use And Maintain
So far I never had any problems maintaining my boat. I was listening to many stories about how it will be hard, but, with a little bit of patience, it is a smooth ride.
If you are boating at a lake or river you can expect that you will have dents and holes sooner or later. Pontoon boats reduce chances of those situations because they sit high in the water, not as deep as V-shaped boats, so damaging your boat is not very common. This also allows you to go into much shallower waters.
Also, the big plus is that fixing of a pontoon boat is cheaper in case it gets damaged.
One more thing that I consider as the big advantage of a pontoon boat is that they are very easy to clean. Now I don't know how hard it is to clean V-shaped boats but I've heard some horror stories.
Pontoon Boat Last Longer
Longevity is one of the main reasons why I bought a pontoon boat. When we are talking about longevity, there is no better boat.
If you own a boat for many years or you bought used pontoon, you might have holes in furniture and carpets may be faded. It is very simple to replace those things in a pontoon boat. Imagine that you have to replace cushions on your ski boat. Good luck with that.
You don't have to be very handy to renovate your boat. I usually do everything I know, and after that, I just take my boat to a mechanic where professionals finish the rest of the work. Many other boats have problems with getting on and off the boat on a beach. That problem is "v" shaped edge. With pontoon that is not a problem at all.
People who have ski boats are trying to replace it every few years with a new boat. Having a pontoon boat there is no need for that.
Pontoon Boat Is Really Comfortable
Comfort is one more important reason why I choose the pontoon boat. It is spacious and very comfortable. One person can lie down and take the whole couch, while there is enough room for 7 more people. The comfort of the pontoon boat is unbeatable.
It is so comfortable that sometimes we have a problem leaving the boat for the whole day.
Opportunities are endless on a pontoon boat. You can swim the whole day with your friends, changeup in a little handmade cabin. After that, you can make a barbecue right on the boat. A pontoon boat can really make you feel like a millionaire, without spending a lot of money on a boat.
They are also very comfortable during the ride. If there are no strong winds, the ride will be very smooth.
Pontoon Boat Is Very Safe
Especially for people who have kids, this is a very important segment. Pontoon boats are much safer than others because there are less "don't go there" parts on the boat. Fence with high rails on a boat reduces chances of falling over into the water.
The weight of pontoon boats makes them extra safe. They are easy to drive, and chances of pontoon boat flipping are not very high.
Since the turning radius is not very tight, and the speed of the pontoon boat is around 30mph you can make full speed turns with ease. You can look this up in US Coast Guard statistics. It shows how pontoon boats are much safer than regular boats.
Perfect For Storage
In case you are a new to the boating world you won't make a big deal out of this. But if you are more experienced with boats you will know how important this is.
If you have many guests on your boat and everyone brings something like blankets, food, cooler, clothes, on the ordinary boat you wouldn't have enough space. A good thing about the pontoon boat is that you will have plenty of free space for everyone. That is a great thing, especially if you are staying outside for more than just a day.
Disadvantages Of Having A Pontoon Boat
There are not many disadvantages to pontoon boats in my opinion. Below I have described my biggest issues. If you are first time buyer you have to be unbiased and you got to know what you are looking for.
So here we go.
Speed
I've seen some fast pontoon boats, but those are very rare and hard to find. They are also very expensive.
Pontoon boats are great for water sports, but if you want to impress someone with speed, you will not. My boat has a top speed of about 30mph I believe. Typical speed of pontoon boats is around 28-35 mph. As you may notice, they are not speeding devils.
Some of the newest models of pontoon boats have larger engines with three tubes which improves speed.
Pontoon Boat On A Rough Water
The pontoon boat is very safe when the waves are small but when the waves get bigger, watch out. During the storm or heavy rain, pontoon boats are more dangerous than ordinary "V" boats.
Large waves cause problems because pontoon boats are diving into the wave, and not go over them. That can cause capsizing but on very extreme occasions.
The best thing to do during the storm is to get out of the water.
Wake Shape
For me personally, the wake on my boat wasn't something I was thinking about when I bought it. But, I understand that for some people this is important.
The wake behind pontoons outboard is very similar to ordinary ski boat, but the difference is that pontoons have wake on both side. Which means that pontoon boats wake is much wider than normal boats.
Handling Might Be Challenging
Handling may be tougher than traditional boats. Pontoon is wider and heavier than your typical "V" boat.
My boat turning radius is approximately 25′.
Outboard Engine Noise
If you are buying a pontoon boat for the first time, try to avoid outboard engines. They can be very loud, much louder than inboard engines definitely.
The newer models of outboard engines are improved in that aspect so if you are buying an outboard engine, make sure that you are buying a new model.
Final Word
So there you are. Those are my thought on the pros and cons of pontoon boats. If you agree or disagree with my views make sure to let me know by commenting below. I promise I will take your critique with a smile 🙂
If you want to know how Pontoon stacks against Deck Boat make sure you read Pontoon vs. Deck Boat Comparison.
For All Your Accessories and/or Vinyl Flooring Visit Pontoon-Depot's Shop Site.