Sky's Boat Buying Tips
Sky's Boat Buying Tips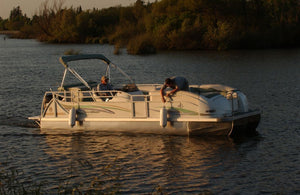 Thinking of buying a pontoon? Are you overwhelmed by the choices and all the different manufacturers and dealers? 
To make it easier, I usually recommend boat buyers start with "CPLUS." CPLUS is a handy acronym for Cost, Preferences, Location, Use and Skill. Once you know what you can spend, what you want, where you will keep the boat, how you will use the boat and what type of boating skills you have, you can start looking at what and where to buy the boat. 
Publications like Pontoon and Deckboat Magazine and their online forums can help narrow the search. Warning…be careful with the internet. The internet is full of "advice." But just because you read it online doesn't mean it's the right or best advice for you or even factual. A favorite quote of mine is "Be skeptical, but listen." Reading and listening to others' opinions provides valuable information. Using all of that information can help an "educated" boat buyer find a boat that will provide years of fun at a price within their budget. 
You can always shop Craigslist (or any other boat-selling websites) for used boats, but buying new generally means buying through a dealer. Finding a good dealer is as important as finding the right boat.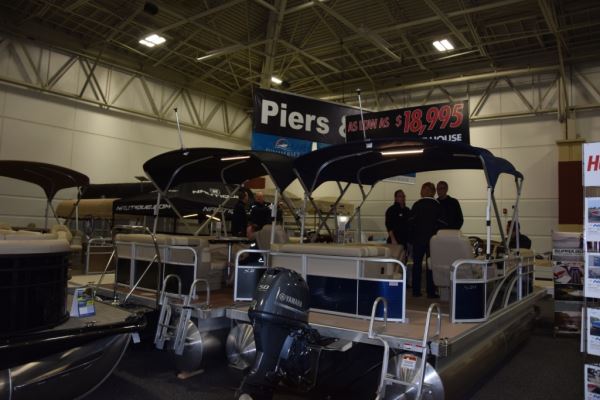 Check out boat dealers in your area first and expand the radius. Start by asking a lot of questions. You don't have to be at the dealership to ask a few basic questions. You can do this via e-mail, through the internet, with a telephone call or in person. In the beginning you want to find out if the dealer even offers what you want. Why drive all over the area if the dealer is a wakeboard specialist and you want a pontoon? Do the preliminary research without wasting the time and gasoline. If you are in a location that has very few dealers, your choices may be limited, but don't let that stop you from getting a good dealer. A good boat dealer may only be a few hours' car drive away. But remember, distance will affect serviceability. 
A few basic questions to ask the dealer could be: 
How long have you been carrying brand "x" boats?
What's the horsepower range on this boat?
What range will this boat have if I have got six people in it and a full tank of fuel?
What kind of wake does it throw out for water sports?
Is my vehicle powerful enough to pull the boat?
What service do you offer and what kind of parts do you stock?
Is your shop open on the weekends?
Do you offer pickup, delivery or in-slip service work?
What type of guarantee or warranty does you service center offer?
Do you offer "sea" trials? 
While this is only ten questions (many more are possible) it will give you an idea of where to start. I personally change my list depending on the type of boat I am trying to buy. You can change the list of questions if you are buying a used boat from a private seller. But if you are looking for support, service or a warranty, a new or used boat from a dealer is the only way to go.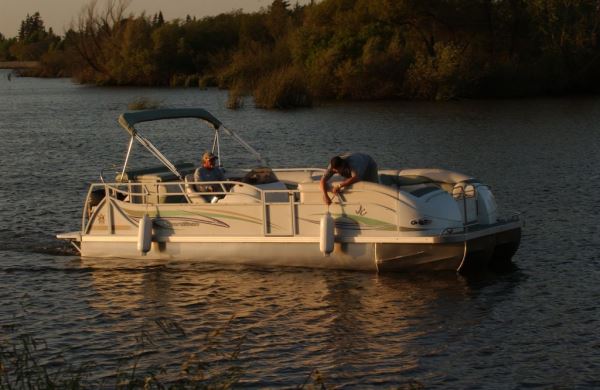 One more thing: head out to the local lake where you are going to be using the boat and check out what the local boaters own and ask if they bought from a dealer. Reputation is a big issue in boating just like any other business. The only way to check on the reputation is to ask boaters. You are trying to find a dealer that is well known for the right reasons. Just because they have the reputation of being the biggest or the cheapest doesn't mean they will be the best. 
If it came down to one sentence, look for a dealer that pays attention to you and what you need and want. Oh, and make sure the boat feels right. When it is all over, if you don't like the color, the style, the sound or the way the boat rides, it is not the right boat. That means you need a sea trial. You are the only person that can make that decision. But when you find a good dealer, they can put you in the right boat and keep your family on the water. 
Customer Service 
I called around to friends and customers that owned boats and I asked them what they wanted from a good dealer. Not surprisingly, customer service and the first impression the dealership gives was the top of the list from everyone. People buying boats want to buy a boat from someone that genuinely cares about the customer and their image. If the new boat's displays or demos are cluttered, dirty and in poor maintenance, the first impression is not going to be good. 
To care about the customer the dealer needs to listens to the customer and try to distinguish the difference between the customer's wants and needs. A good dealer is one who knows his "true" client. The smaller the boat, the more involved the owner is with the dealer. Often a large-boat customer (50 to 100 foot) will depend on the crew or captain to suggest boats and any upgrade or options. While the final decision is still up to the owner/buyer (no matter what the crew says), the dealership needs to be able to work with all the parties involved. 
If the salesperson doesn't respond to buyers quickly or genuinely, how will they behave after you buy the boat? As a new buyer, you want to deal with someone who continues to stay in touch after the commission is paid. 
Hand in hand with customer service is responsiveness. Prompt returned calls or e-mails give an impression of interest and concern for the customer. While it is very difficult for a person to answer every phone call or e-mail within the hour, it should be reasonable to expect a return contact within a few hours or even one day. If it takes two or three days to get an answer the dealership might be understaffed or not concerned about customer. Personally I try and return e-mails and phone calls in 24 hours. 
Product knowledge from experience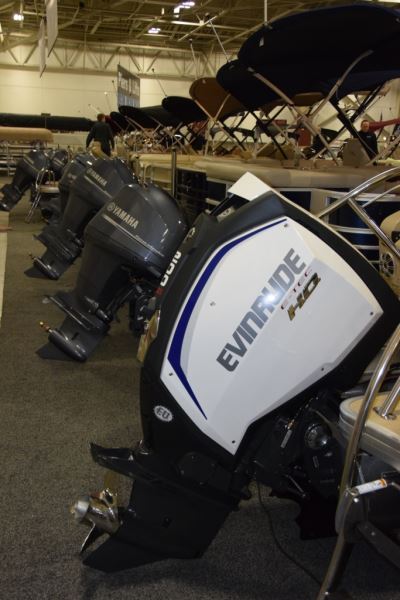 If you have found a dealer that has a good first impression and sales staff that seems really interested in you getting a boat you can use, are they experienced? Do they know their boats? 
Finding a dealership that has experience not only with boats, but the boat they are selling can make the difference between an average dealer and a great dealer.  A dealer that knows the product can offer advice not only on the model but also the average annual maintenance costs, performance and handling issues and even loading or docking concerns.  A dealer wants to be able to offer maintenance service on the boat, but they also don't want a boat that is a maintenance pig.  Experience is gained by use and time. You don't want to buy a wakeboard boat from a dealer that specializes in sailboats. If you can find a dealer that actually uses the boat the way you plan, it will give you better insight. 
Maintenance Service
Part of customer service is the maintenance service. Most boat owners want the same type of service they get as a car owner. In fact, a study by the NMMA indicates that most owners want same day service, like when their car gets an oil change at a quick lube. In the marine dealership the average one day job has the boat in the service center for about three days. While three days might not be a long time, it is frustrating as a new owner getting maintenance and not being able to get the boat back in the expected amount of time. 
Ease of scheduling service is also important. Being able to log onto a website to make an appointment is the fastest and easiest way, but the telephone is still the most popular method. Once you contact the dealer do they have the staff to get the boat serviced? Once they have the boat, are they doing what they said they would and is it done when they say it will be done? 
Since many boaters are weekend warriors, it is important that any work can be started and completed during the week, so that come the weekend, the boat is ready to go.  Speaking of the weekends, it was also mentioned by many owners that a local dealer that offers a pick-up and delivery service might win their business just for the convenience. 
Of course there is also the issue of the shop having replacement parts for the usual things that will break. A good dealer has a large inventory of parts and accessories available to their customers. Another question is whether you can access the dealership and the service shop on the weekend. If something breaks or you forgot to buy something before the weekend started, can you still get the parts and supplies you need?
Even though you are shopping for a boat from the dealer, it is good to find out what else they can service. What happens if the local dealer doesn't have the same boat you end up buying? Can they service it anyway? This is especially important if you are buying a boat without a warranty or no longer in production. A good shop will service more than just what they sell. I would hate to be told that the local service shop can't work on my boat because they do not sell it. I shouldn't be expected to sell my boat and buy a new one just to get service at the local marina. 
Lay-up assistance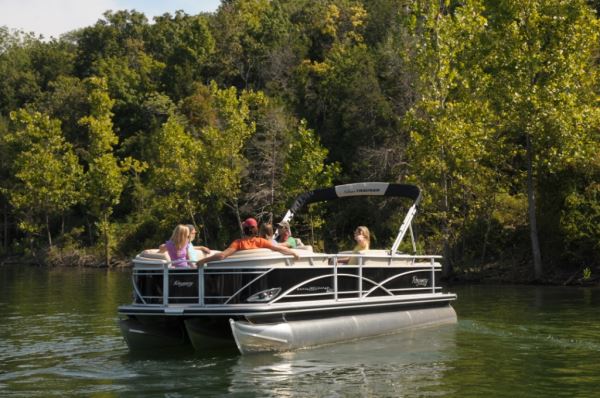 If you are like me, my boating season is basically from April until October. That means the other six months my boat is stored on its trailer. I have the advantage of living somewhat rural with room to store my boat near my garage. If your community doesn't allow storage and your homestead isn't large enough, does the local dealer provide that service? Bigger boats are often stored on stands and need to be removed via a crane or hoist. Hopefully the dealer that sells you the bigger boat also has the equipment to remove the boat for maintenance or storage. 
It would also be important that the boat dealer be able to provide the appropriate winterization services if you are in the northern states. A boat dealer that doesn't regularly maintain a boat with holding tanks and heads might not be prepared to correctly winterize your boat to prevent freezing. Which brings up another point: if you are buying from a dealer that is based on the water, are there pump-out stations and fueling services available close by?
If it came down to one sentence, look for a dealer that pays attention to you and what you need and want. Oh, and make sure the boat feels right. When it is all over, if you don't like the color, the style, the sound or the way the boat rides, it is not the right boat. That means you need a sea trial. You are the only person that can make that decision. But if you find a good dealer, they can put you in the right boat and keep your family on the water.
About The Author
Scott "Sky" Smith is the author of "Ultimate Boat Maintenance Projects" and an independent agent insuring boats, custom vehicles, drones and aircraft nationwide. Sky@SkySmith.com. Follow on Twitter @scottskysmith.
This article is courtesy of Pontoon and Deck Boat magazine, for more, visit 
https://www.pdbmagazine.com/2021/03/skys-boat-buying-tips