Pontoon-Depot Blog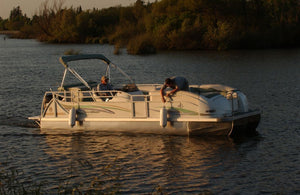 Sky's Boat Buying Tips
Thinking of buying a pontoon? Are you overwhelmed by the choices and all the different manufacturers and dealers? Here are some tips to help you out!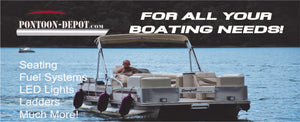 How Water License Laws Differ from The Road!
By: Amy Cabanas, Pontoon-Depot
 ....and how not to get into trouble this season.
Starting off the new year right is always a good thing. Although I must say I'm not much for New Year's resolutions. However, I am a HUGE proponent of abiding by all laws and not putting you or anyone else in any danger on the water. Safety first!
Who knew! You actually have to take a class in all states and get certified to operate any boating vessel. Another surprising, yet understandable law, is that you must be at least 12 years old to operate a motorized vessel powered by an engine of 10 horsepower or more. Moreover, you must be at least 16 years old to independently operate a personal watercraft, which isn't too different from the road. I know in most states to get your drivers license for a car is 16 years old.
As for Game and Fish commission requirements, there are no minimum age requirements to take the online course. Also, you do not have to be a resident of the state you take it in, which is extremely convenient for all of you lucky enough to get some early vacation time.
This is not A Boating Safety License!!
Boating safety education certification is not the same thing as a Boating license. What you really need is a Boating Safety Education Certificate from your state. You can get the state Boating Safety Education Certificate by taking a boat safety course at Boat-Ed.com. Find out if you need the certification. If you do, make sure you always carry it with you and if you lose it, get it replaced asap. These are a few things that can turn your day from fun on the water with your friends to a headache no one wants to deal with.
Kalkomey is the official provider of recreational safety education materials for all 50 states. They provide online boating and hunting, as well as, all other recreational safety education. Their email for more information is info@kalkomey.com
If you are worried about passing this test, as I am sure we all remember the nerves we had when getting ready for our drivers written test, have no fear. There is a study guide on the same site, Boat-Ed.com. Check it out for all your questions and/or concerns.
As I always say, better safe than sorry. Lets all start out the season on the right path. Happy Boating!
For all your accessories and/or vinyl flooring visit Pontoon Depot's shop site.