Summer Boating Snacks | Pontoon-Depot
Summer Boating Snacks | Pontoon-Depot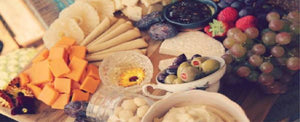 There's something about being on the lake all day in a boat that's relaxing, fun… and makes you famished! Everyone loves to snack on lake day. Skip the traditional bag of chips and bring some awesome summer snacks on your next boating excursion that will not only satisfy your hunger, but your palette too!
Fiesta Pinwheels – This easy wrap may need to stay in the cooler, but it's well worth it and that's easily done in a plastic container. You may want to double the recipe because these bite-sized snacks will go fast! Also try these Cheddar Bacon Ranch Pinwheels or your own twist on the idea.
Mini Snack Buffet – No recipe needed for this one, just compile a bunch of your healthy favorites to keep everyone satisfied! How about some grapes, berries, cheese cubes, mini sweet peppers, nuts and olives for starters!
Speaking of Grapes – Freeze them ahead of time for a cool, refreshing and healthy morning snack! Even if they thaw a little, they still taste great!
Chopped Salad in a Cup – Chop your favorite salad ingredients in a plastic cup with a lid ahead of time and bring prepackaged dressing (bottle or bag). When you're ready to eat, just pour the dressing on, replace the lid and shake to stir and enjoy!
Fresh Kabobs – The antipasto skewers pictured have pepperoni, salami, olives, artichokes, tomatoes and cheese, but you could do anything you like or a variety of flavors (such as fruit!).


You'll also find some great snack ideas here and even more snacks here. Be sure to bring something refreshing to drink too. And remember, spills are easy to clean on MariDeck Flooring, offered by Pontoon Depot! Whether you're looking for quick and easy or healthy and fun, you've got unlimited options. Enjoy your boating day!