Decks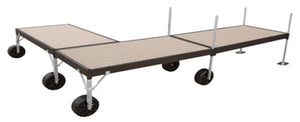 Hewitt Brings Their Classic Dock to the Next Level of Class
By: Hewittrad
Hewitt Machine & Mfg. Inc. brings a new customizable color option to their Classic Dock. The same great flexibility of a post and plank dock in a high-strength modular system, but now with sides and ends powder-coated to a color of your
choice.
Custom color options
Large 4' x 8', 4' x 12', 4' x 16' sections mean fewer parts for faster installation
Optional wheel kits also available to aid placement and removal
Aluminum construction eliminates painting and requires little or no maintenance
Modular design also makes it easy to add on or change the configuration of your dock at any time
The Classic Dock is perfect for people who want to make the most of their recreational time. Available at Hewitt dealers now.
For All Your Accessories and/or Vinyl Flooring Visit Pontoon-Depot's Shop Site.