You know what is more fun than a Pontoon Boat?
You know what is more fun than a Pontoon Boat?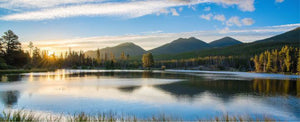 The stuff it floats on!
You know the great thing about boats? They ride on the water. You know the great thing about water? You can swim in it.
Traditional boats are great, but when it comes to stopping your boat to descend into the cool, refreshing water for some fun in the lake, there is nothing in this world that can compare to a pontoon boat.
Want to turn your pontoon into a swimming platform? Then you're going to need a swim ladder. The good news is, you can score the best one money can buy for not that much money at all. Our swim ladders are perfect to use either at the transom or side gate.
They easily attach to the deck with Shur-loc catches, which are included at no extra cost. They're coated in vinyl, so both your feet and your pontoon are protected every time you take a dip. You know how ladder hooks are impossible to store? Not these babies — they fold flat.

There are few things better in this world than staring up from the water and seeing your pride and joy bathed in light. Today's LEDs don't get hot and they only gobble up around 10 percent of the energy of a traditional light. So soak your pontoon in the soft glow of amber, red, blue, white or green light to serve as a beacon while you swim and splash.
Finally, there's flooring. When all those little feet ascend back up your new ladder to the deck of your pontoon, they're going to trample your tired old marine carpeting into a matted, dirty mess. If you have high-end vinyl MariDeck, on the other hand, you'll be safe from slips and falls. Even better, you're just a few sprays with a hose away from looking like new — literally. MariDeck flooring makes your deck, and you whole boat, look brand new for years after installation.
You think it's fun on the lake? Wait til you get in the lake.