5 Ways to Use a Pontoon Boat Pontoon-Depot
5 Ways to Use a Pontoon Boat Pontoon-Depot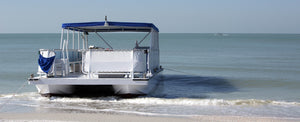 By: 321 Boat Club
Pontoon boats are the most versatile boats available as they are a perfect for a wide variety of activities.  No matter what kind of activity you are interested in, a pontoon boat can most likely satisfy your needs. This is why these boats are so popular among groups and families. When going out on the water with multiple people, it is most likely that they are going to want to partake in a variety of activities. While other boats are limited in their functionality, pontoon boats allow you to take part in several different activities as if the boat was made for it. Here are five ways that you can use pontoon boats to have fun for your entire crew.
Have a Picnic for Lunch
One of the biggest advantages to being on a pontoon boat is the amount of space and storage available on the boat. There is more space and storage on a pontoon boat than just about any other boat on the market. This gives you plenty of storage space to store food and drinks while you enjoy your activities and plenty of space so that everyone has plenty of space to eat lunch. The Indian River Lagoon has 137 spoil islands that dot the stretch of water but you might rather relax on the padded seats of your pontoon boat rather than sit on the dirty ground. This boat gives you the opportunity.
Celebrate an Event with a Party
In addition to being a great boat to have a picnic on, the storage and space on a pontoon boat also makes it a great place to throw a party. Whether you are looking to celebrate a birthday or just get friends together for the day, you can store all the items you need on the boat and have plenty of room for up to 13 people, plenty for your gathering. The boat features enough room for all the celebratory items you will need, all the people in your party to fit comfortably on the boat, and offer a wide variety of activities that your guests can take part in.
A Pontoon Boat Has a Built-in Platform
If you have a young family, there may be certain activities that your children may not be old enough to take part in yet. Maybe they are not quite old enough to take part in water skiing or maybe they have yet to acquire the swimming skills necessary to venture off on their own in the water. But, especially with kids, they do want to take part in fun activities. The platform on the back of the boat will allow your kids to jump into the water safely where an adult can be waiting to safely get them back to the boat.
Another way to use the platform is for relaxed fishing. While a fishing boat may be better equipped for the activity, the pontoon boat's platform allows you to dangle your feet in the water as you fish. Just like if you were fishing off a dock. So if you are not looking for a serious fishing expedition but just to relax, a pontoon boat may be perfect for you.
Take Part in Water Sports
One of the most popular ways to have fun on the water is through water sports. Whether you want to go water skiing, tubing, wakeboarding, or some other activity, a pontoon boat has you covered. Water skiing and wakeboarding are extreme sports that are very popular. However, if you have younger kids or people that are not comfortable with the more extreme sports, tubing might be a better option. With tubing, people of any age and any level can take part and have fun.
If you are looking to take a boat out on the water, no boat offers more variety than a pontoon boat. No matter where your interest lies, a pontoon boat will allow you take part in those activities you enjoy most. Whether you are looking for a good picnic, a place to celebrate, or want to take part in a variety of activities, a pontoon boat features the storage, space, and amenities to accommodate. If a trip out on a pontoon boat seems right for you, join 321 Boat Club