The Best Beverages To Bring Boating | Pontoon-Depot
The Best Beverages To Bring Boating | Pontoon-Depot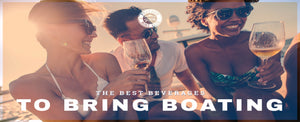 By: 844 Lets Boat
Summers in Georgia are hot, there are no two ways about it. So don't you want to stay cool with beverages that will leave you feeling sated and chilled? Whether you're boating or laying out next to the kiddie pool in your backyard to try to stay cool this summer, these beverages will ensure that you don't overheat as the weather heats up. Keep in mind to check out the Georgia drinking laws to ensure everyone on the boat stays safe. We also encourage you to read Common Misconceptions About Drinking And Boating to ensure that you know more about BUIs.
At Freedom Boat Club, we want to make sure that everyone stays safe and out of trouble. While every person who comes boating on Lake Lanier wants to have a good time, we also want to ensure that you, your family, friends, and even your dog, Fluffy, abide by the Georgia boating laws. Additionally, no matter what you may be inclined to drink, it's important that you continue to drink water to stay hydrated. One of the biggest issues that can happen when boating is dehydration and exhaustion, even to people who aren't drinking. Make sure that you bring plenty of water when you visit us on Lake Lanier.
Drinks To Try This Summer
Keep in mind that we do not encourage you to drink and boat, but we do want you to have a good time as long as the rules and regulations are followed. In addition to packing snacks galore, try out some of these beverages to enjoy a cool drink as you swim, boat, and stay cool in the Georgian summer. From sangria to non-alcoholic drinks, you'll find a little something for everyone on this list.
Sangria
However sangria is made, it's delicious. The fruity freshness such a treat for the tastebuds and is perfect to sip on as you lay back on a pontoon boat and get some sun. Sangria can be made in a variety of ways that involve alcohol and ones that are completely non-alcoholic, so that your children can enjoy the deliciousness of this unique beverage as well. While you can browse the internet for recipes aplenty, we have a few that we enjoy and want to share. There's one that has star fruit and kiwi to really enhance the summer tastebuds and then there's the Tropical Sangria that has all of your favorite fruits with a hint of Malibu rum.
Beach Side Punch
While you're not laying out on the beach in the Bahamas, this Beach Side Punch is a summer classic. Punch is always a refreshing drink, from the days when you'd sip it at school dances to when you need a pick me up while boating. The Beach Side Punch has ripe cherries, grapefruit, soda with a dash of lime, and some vodka. If you'd like to add a little something extra, then rim the glass with some salt. This punch isn't too sweet and overpowering, but just right to relax on a boat for an extended period of time.
Margarita
A summer's not complete without trying a new type of margarita. While you may like sticking to the traditional margarita, it's always fun to play it up a bit and experiment with some new flavors. You can try a light strawberry, grapefruit, tropical, skinny, and the sparkling blood orange margarita. Keep in mind that none of these have to have alcohol and you can always create your own margarita that you think people may enjoy.
Sparkling Summer Limeade
One of our non-alcoholic drinks that we are most excited to share with you is the Sparkling Summer Limeade. Living in Georgia, it's always delicious to have a sparkling drink that's delicious and chilled to cool you down on a hot summer afternoon. The limeade is a delicious combination of five different fruits. You'll add blackberries, kiwi, pineapple, mango, and strawberries. If you're a fan of blueberries, then we encourage that as well. You'll add limeade concentrate that's thawed and either ginger ale or lemon lime soda. It's a truly delicious non-alcoholic beverage to enjoy while boating.
Pineapple Ginger Sparkler
Ginger sparklers are a great way to spice up spring and summer with some refreshments. The Pineapple Ginger Sparkler has everything you need to have a great boating day and it's without alcohol. To get the perfect summer drink, all you need are a few ingredients and it'll serve everyone on the boat. You'll need ginger ale, pineapple juice, fresh ginger, sliced oranges, and fresh basil. This sparkler is not only delicious, but it's nutritious too with the ginger, which helps to settle stomachs.
You can always try a variety of Georgian beer that's native to the Buford or Cumming area. With so many breweries in the area, you'll be hard pressed to find more delicious beer. Remember to be safe this summer while you go boating on Lake Lanier! We look forward to starting the boating season with you!
Whether you are in Georgia or Arkansas please drink and boat responsibility and have fun & be safe from www.Pontoon-Depot.com