Boat Organization & Storage Tips | Pontoon-Depot
Boat Organization & Storage Tips | Pontoon-Depot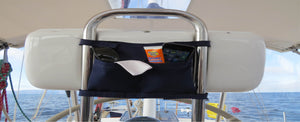 A place for everything, and everything in its place—here's 20 of the best onboard organization solutions for your boat.
By: Zuzana Prochazka
No matter how big the boat, onboard stowage options never seem to be enough. Some captains even insist that for each item that comes aboard, something has to leave. That's when it's time to get creative—and organized. Let's see how some clever crews have managed to fill a boat almost to the point of needing to raise the boot stripe.
1. CREATE SPACE IN THE COCKPIT
When it comes to boat organization, we think of space as being inside or on top of something but a good eye will spot spaces that are simply created. For small cockpit items like sunglasses, sunscreen and cellphones that are always sliding around in the cockpit, try making Sunbrella pockets. Canvas holders can be custom designed around the binnacle, handrails and dodgers. This keeps small stuff from getting lost or broken.

2. MANAGE THE OUTBOARD (AND OTHER HEAVY STUFF)
Even small dinghy outboards can be heavy so many boaters carry a davit to help raise and lower them to the tender (especially on a sailboat). But davits can be expensive to purchase and install and take up space on deck. Some sailboats can solve this with a shackle and block and tackle that will fit in a shoebox. Just hang the rig from the main or mizzen boom and you have a great lifting device for the outboard, dive gear, jerry cans of water or fuel and even coolers.

3. STOW THE LONG STUFF
Boathooks, deck brushes and even dinghy paddles are awkward to stow and take up valuable space in the lazarette. Try leaving them on deck in PVC junction fittings. A row of 3-4 fittings can be lashed to the pushpit and hold these tools vertically. They're affordable and hold up well in the sun. Just be sure to lay the brushes on deck before a photo op.

4. COLLAPSE WITH CANVAS
Another item that's not lazarette-friendly is the bucket. Instead of bulky buckets that can crack when you jam them in, consider getting collapsible canvas buckets for deck duty.
5. WRANGLE THE RODE
Line is a space hog. What to do when every space and outside locker is already full of docklines and fenders and you need a stern anchor line? No worries, Quickline has a flat rope reel that can hold up to 265 feet of flat polyester or floating polypropylene webbing out on deck. The reels are 15" – 24" in diameter and only about 1" thick. They may be mounted to a railing or stanchion and have a handy etched measure on them to let you know how much line is out.

6. WRAP THE WRENCHES
A set of wrenches usually comes in a bulky plastic case and if you have room for it, they're nicely organized. But if space is tight, consider canvas wrench roll-ups. Fold, roll and tie wrenches up like a burrito and easily spot a missing wrench that's not in its designated pocket.

7. TACKLE THE FASTENERS
Boats are fastener-hungry. There's no end to the nuts, bolts, screws and hose clamps that a boat will consume and keeping them handy isn't always easy. Why not use clear tackle boxes to organize the small stuff?

8. STORE THE SANDPAPER
Sandpaper is another consumable that boats love. Most sandpaper comes in bulky cardboard boxes that get wet and ruin the paper inside and you can never find that half sheet of 80-grit that you knew you had leftover from the last varnishing project. A better way to keep lots of sandpaper is with an expandable pocket file from an office supply store. Label each pocket with the grit level and keep small leftover pieces where they belong.
 

9. MANAGE MANUALS

While you're at it, buy two pocket files. They're great for organizing small manuals and quick reference cards for things like electronics. They're also good for ship's papers like insurance, registration and schematics.

10. MAKE PILLOWS THAT AREN'T
We love pillows – they're comfortable, decorative and really pull a "look" together. But they take up room as do sheets, blankets and towels. Why not combine them into one? Pretty accent pillows can be stuffed with towels and that leaves room in lockers for more jeans to mysteriously find their way aboard.

11. HANG YOUR HAT
Piles of hats accumulate on boats and soon can smell musty. Why not hang baseball caps and sunhats on a single plastic hanger? Just clip them on with clothespins or Velcro. This works great for flipflops on the back of door handles too.

12. VACUUM BAG PUFFY STUFF
If you're going to keep heavier items aboard year round, consider getting a vacuum sealer. Pack fleeces, jackets and blankets into special bags and suck the air out. Not only does that shrink the contents, it keeps them mildew free.

13. CHOOSE SQUARE CONTAINERS
Galley organization is always a challenge. Not only do you have to find room for boxes and bags of basics like sugar, pasta and chips, you also have to keep them fresh and dry. Plastic containers are great but be sure to choose square ones that will butt up against each other without leaving precious space between round packaging. Label and date the containers if the food will be there a while—and toss out the cardboard that can bring cockroach eggs aboard.

14. SAVE SPACE WITH WIRE RACK DRAWERS
There are never enough drawers on a boat. But you can create them by converting a locker into drawer space using wire rack drawers that are lighter, airier and take up less room inside than actual wooden drawers. Rail and rack solutions can be found in organization outlets like the Container Store.

15. PREP THE PERISHABLES
Perishables, especially produce, can take a beating on long passages. But what to do when you just don't have the counter space to stow all those vegetables and fruit? Hammocks utilize the space we don't think of as space—air. String a veggie hammock near the galley. Not only does it make room out of thin air, it'll keep produce well ventilated and swinging free so it doesn't get bruised. Also, onions and potatoes may be kept perfectly in pantyhose. Place an onion in the hose, tie a knot, repeat. Hang the hose vertically. Just be sure to separate the two veggies because the moisture in onions makes potatoes sprout.

16. SHRINK WITH SILICONE COOKWARE
Silicone has become a "thing" in household kitchens and it makes even more sense aboard. Bulky galley tools like pot lids and strainers now come in handy collapsible versions that are easy to clean and you can even put them in the oven. Look for pots, baking dishes and even ice cube trays that can be folded and squished into tiny spaces.

17. SECURE THE KNIVES
A knife drawer is inefficient and unsafe on a moving vessel but who has room for a knife block? You do. Cut an existing block or make a new one and mount it on the side of a locker or bulkhead. Slip the knives in and make a canvas cover so you aren't dodging flying knives in a rough seaway.

18. PREP YOUR DOCKTAIL PARTIES
Throwing a party in the anchorage? Try the Docktail Bar. Manage your spirits, mixers, wine, Solo cups, limes and swizzle sticks in a handy tray that mounts on a gunwhale or rail or even slips into a rod holder. The bottles stay secure and you have more room on tables and chairs for food and guests.

19. SECURE BOTTLES AND GLASSES
Transporting the goods to your party can be tricky and noisy. Slip those wine and rum bottles into old socks and pile them into the bilge. They'll be cushioned and silent. You can also build wine rack below the cabin sole. Oh, and glasses can be protected by hair scrunchies so you can pack them closer together even in bouncy conditions.

20. BRING THE BUNGIES
Finally, you can never have enough bungy cords. They secure everything from fishing rods to slapping halyards. An over-the-door clear pocket organizer will keep dozens of cords of various sizes, tangle free.

These simple solutions expand space aboard so you don't need to worry about where to stow and hide everything down to the last M&M.