EASY UPGRADES TO MAKE ON YOUR BOAT
EASY UPGRADES TO MAKE ON YOUR BOAT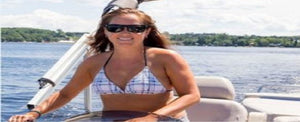 By: Triangle Marine Boat Center
Owning a pontoon or open deck power boat is a wonderful luxury – but newer is always better. What if there was a way to upgrade the value and comfort of your boat without having to buy a newer model? There is!
Small additions and improvements to your boat can make a huge difference in your enjoyment. There is no need for massive overhaul or large investments. Instead, by updated old materials or technologies or adding something new, like an audio entertainment system, your boat will give off a fresh, rejuvenating vibe.
Safety and Security
For both quality and aesthetic purposes, the hardware on your boat should be inspected regularly and, if need be, refurbished. Rust streaks around stainless steel fasteners are a sign of corrosion, and should be replaced. Once the bolt or fastener has been reinstalled, it is important to make sure it is completely sealed, and you can use rust remover will give it that brand new look.
Anchors should also be inspected for safety purposes. You want to make sure the chain is in good condition and will be reliable whenever you need to use it. If you need to replace the chain, it's also a good opportunity to add a bit of extra length, as well, notes Boats.com. This will provide additional length in case you need to anchor in deep waters or heavy seas.
VSM monitors – vessel systems monitors – help you keep your boat's overall maintenance needs in check. They are easy to use and keep track of dozens of vital measurements within your ship's systems. Upgrading your monitor can ensure that you keep a close watch on all different aspects of your boat and better maintain your vessel.
Entertainment and Enjoyment
Now that we have gotten some necessary safety aspects taken care of, let's inject a little extra fun into the boating experience. Adding a new sound system will give your pontoon a new sound and allow you to enjoy your day at sea in style. There is nothing like listening to your favorite tunes accompanied by sunshine and the open sea. You can have an audio system installed along with a USB port connection, as well, which will allow you to play music from your cellphone or other music player – and even charge it in some cases.
You can also update your vessel's lighting with LEDs. While just a few years ago, these bulbs were prohibitively expensive, the price has dropped dramatically, making them an option work considering. In addition to offering a greater longevity, LEDs are also often brighter and use less electricity, helping conserve power on your boat.
Speaking of power, you can also take advantage of being out on the open water and in the full midday sun by installing a solar panel on your vessel, says Sailing Magazine. While the initial investment may seem expensive, the truth is that panels are much more affordable than you might think. Plus, by boosting your available battery power, you won't ever have to worry about being without power while on the waves.
Triangle Marine Center offers a full range of accessories to help make your boat everything you want it to be. Our accessory shop offers a full range of equipment, from anchors and electrical supplies to navigation systems and lighting – all at a very affordable price. Stop in to see us on Highway 441 in Tavares, Florida today and shop our selection or speak with our service team about major upgrade options and how we can help improve your boat.
For all your Pontoon boat needs shop on Pontoon-Depot.com