Family-Owned & Operated Self Creek Lodge & Marina...
Family-Owned & Operated Self Creek Lodge & Marina...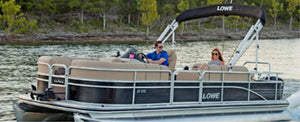 Pic By: Southern Fishing Boats
...on Lake Greeson is proud of its heritage of offering the most dedicated staff at one of the finest of Arkansas lake resorts. If you're looking for a vacation in Arkansas, our Lodge & Resort is your answer.
Everything is in place for Self Creek Lodge and Marina to offer our guests a wonderful family vacation in Arkansas at Lake Greeson. We offer year-round events and activities to make your lakeside vacation memorable, fun, and carefree. Our marinastore offers over 2,400 square feet of display and retail area – there's even a cozy dining area where guests can look out onto the lake and enjoy a plump juicy hot dog fresh off the grill, a delicious pizza, or other great lake snacks. Fishing supplies, lake necessities, sportswear, marine and boating supplies are offered as well as fuel, bait and ice. Friendly and helpful staff greet guests at the fueling tee or behind the spacious oak counter. Outside, a cool, shady patio beckons with comfortable, lake-side seating – the perfect perch for enjoying ice cream!
The resort offers a wide range of covered and uncovered slips for boat storage of every size in a clean, well-maintained marina basin. A full rental fleet includes late model party barges and ski boats.
From across the water, cozy, Arkansas lakeside cabins offer lakers a peek at casual, rustic luxury. The cabins feature spacious rooms, a stone fireplace, fully equipped kitchen and beautiful furnishings in an eclectic blend of antiques and comfortable, contemporary pieces. From the beautiful area rugs and unique accessories and artwork in each unit to the bubbling hot tubs on the back decks, these Arkansas lakeside cabins have been designed to offer every comfort and delight for visitors to the lake.
Jim and the Self Creek staff are eager to welcome you to their home on Lake Greeson! Jim, Lori and family live on the grounds to offer visitors the kind of warm, personal service that makes Self Creek one of the most popular of all Arkansas lake resorts, and one of  the top choices by families across the South.
Self Creek Lodge and Marina is part of the Tri-Pennant Family of Resorts, spanning two other Arkansas wilderness lakes and offering more of the premier luxury that you're used to at Self Creek. Visit Iron Mountain Lodge and Marina on nearby DeGray Lake, and don't miss Mountain Harbor Resort and Spa on nearby Lake Ouachita. All three resorts within the Tri-Pennant Family offer the same excellent customer service and memorable destination vacation experience that you deserve in a vacation. The families of the Tri-Pennant Families love to serve yours – and treat you like their own.
For all your accessories and/or vinyl flooring visit Pontoon Depot's shop site.