How to Enjoy A Pontoon Boat Experience | Pontoon-Depot
How to Enjoy A Pontoon Boat Experience | Pontoon-Depot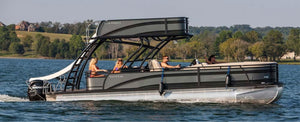 By: Amy Cabanas - Pontoon-Depot
Pic By: TurboSwing
What we've learned this past year! 
Welcome to the intersection of imagination and inspiration! Boaters with discriminating taste and a penchant for performance love pontoons. There is a certain sense of serenity that comes with a trip out on the water on a pontoon boat. It can be any body of water and does not necessarily have to be an actual tropical paradise. The smooth ride will have you sitting back and enjoying the day. That kind of experience can make any body of water a welcomed sanctuary. 
The setup of a pontoon boat allows guests to sit back and have a cocktail while enjoying some pleasant conversation. There is no need to speak over the buzzing hum of an engine and no need to worry about choppy seas. The stability of a pontoon boat can give all passengers their very own pair of sea legs. 
There is always the option to throw a line in the water and catch an afternoon meal. Fishing can be done while you kick back and relax underneath the sun. Pontoon boats also offer plenty of shade, which allows passengers to stay cool on a hot summer day. 
But cool is a constant theme when it comes to pontoon boats. Style combined with comfort makes for a truly unique boating experience. There is even plenty of room on a pontoon boat to do some grilling. That kind of functionality provides everything that is needed for a day of leisure. 
Pontoons, as well as tri-toons use cylindrical, metal flotation devices or tubes that keep afloat a broad platform. Pontoons uses 2 tubes and Tri-toons use 3 tubes, this allows a shallow draft and good stability on the water. This type of boat is used primarily used for fishing and cruising inland lakes as well as water sports and as a water borne camper. Pontoons are powered by an outboard engine, stern drive, or an electric motor. 
Pontoon boats have evolved beyond just a form of recreation and transportation. They have evolved into representing a lifestyle, one that provides relaxing days on the water, free of worry and stress. The soft feel of woven vinyl on your feet sold by Pontoon Depot offers top notch quality and will go perfectly with your wrap around comfortable teardrop bench seats, recessed cup holders, and smart design. Let Pontoon-Depot not only show you the way to a better flooring option for your boat but add all the cool accessories that will not disappoint once you and your family get out on the water. 
Let's enjoy life on a Pontoon Boat, everyone else is doing it!
For all your accessories and/or vinyl flooring visit Pontoon Depot's shop site.