If You're Wondering What The Benefits of Owning a Pontoon Are...
If You're Wondering What The Benefits of Owning a Pontoon Are...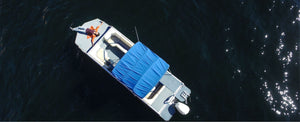 By: Pontoon-Depot, Amy Cabanas
...look no further!
Here are the top five reasons: 
PLENTY OF STORAGE
Pontoon boats are more spacious than speed boats or other motorized boats, so there's more places for storage. Typically, pontoon boats have plenty of space under seats and floors for extra blankets, food, water, life jackets and water toys. In addition, pontoon boats usually seat more people than a traditional boat, typically big enough to fit more than 10 people comfortably. 
EASY FOR BEGINNERS AND FAMILIES
In addition to having more space for families, pontoons are perfect for beginning boaters. They're easy to drive and simple to dock because of the shape and speed of the boat. Because of their size, pontoon boats are also safe, because they are difficult to flip or tip. 
LONGER LIFESPAN
Pontoon boats have a longer lifespan than motorized boats for a couple reasons. In addition to being easier to maintain, pontoon boats generally don't change much over time. This means, there's not a reason to update every few years. They are also typically less expensive to insure, because they are considered a very safe style of boat. 
PLENTY OF CUSTOMIZATION OPTIONS
There may not be a reason to update to a new pontoon boat over time, but there are still plenty of ways to customize your boat to make it your own. You can add LED lights, speakers, additional seating and even toys such as inflatable water slides or tubes! The possibilities are endless. 
PERFECT FOR EVERYTHING
Regardless if you're planning to use your new boat for fishing or entertaining, pontoon boats are very versatile. The right kind of pontoon boat can even be used to pull inner tubes or other floaties! 
Are you ready to start researching DIY projects on your pre-owned Pontoon boat? Contact our Pontoon-Depot team today for your flooring and boating accessories options to get started!
For all your accessories and/or vinyl flooring visit Pontoon Depot's shop site.