PONTOON BOATS: A GOOD PLATFORM FOR FISHING?
PONTOON BOATS: A GOOD PLATFORM FOR FISHING?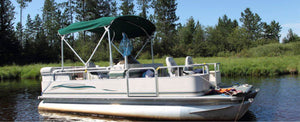 By: Line and Sight
Most people think pontoon boats are only good for pulling water-skiers and wake-boarders. The truth is that a lot of anglers today are using them for freshwater and saltwater fishing. Pontoon boats have some key advantages over regular fishing boats. Of course, there are a few downsides to fishing from a pontoon boat as well. Let's take a look at the pros and cons of pontoon boat fishing.
THE PROS
More fishing space

Party barge pontoon boats offer lots of deck space to move around on while fishing. You won't be cramped for room to cast your line, as you would in a typical two-seater boat.

Keep in mind, not all pontoon boats are big. Some are small one-seaters built for lone fishermen. These types of pontoon boats are comfortable, but don't offer much space. Bigger pontoon boats give fishermen more space to operate. Their wide, rectangular shape allows for plenty of elbow room. You'll also have more space between each rod while slow-trolling. You can better space out your down riggers — although you'll have to order a specialized mount online.

You can safely stand up and move around

If you're embarking on a family fishing vacation, big pontoon boats are perfect. Their wide deck gives you better stability and balance while standing. The spaciousness a pontoon boat provides will give you room to teach junior how to properly cast his line. Your kids can practice their fishing techniques without snagging you.

Your kids can also move about the boat, which means they'll be less fidgety and impatient. You can stay on the water with them longer, and enjoy more fishing with the family. The seat sizes in big pontoon boats are also ideal for all day fishing. They're comparable to sofa cushions, and are good for adults and kids alike. Plus, if you're out on the water and need to relieve your bladder, having a sturdy boat helps. Just make sure no one's looking when you do your business.

Of course, if you're using a one-seater pontoon boat, standing up is not an option. Standing is only smart if you're on a bigger boat.

They're a smooth ride over moderate waves

If you like lake and saltwater fishing, then tri-toon boats are a good mix of size, speed, and comfortability. They're seaworthy, as long as you stay close to the shore. Larger tri-toon boats can be rigged with huge outboards. They can zip through the water at speeds of up to 50 miles per hour and beyond. Ocean anglers say they're performance is comparable to a V-hull.

Pontoon boats can come with very nice interiors. It's less like a boat, and more like a living room. They definitely offer more comfort than traditional bass fishing boats. Their elevated design allows them to handle bumps and chops on windy days. You can coast smoothly. Their stability on the ocean also makes them ideal for drift fishing. As long as you stay away from big waves, you'll like pontoon ocean fishing. Just be smart and use them in ideal water conditions.
THE CONS
They're taller than deck boats

While their height makes them a comfortable ride, it's more difficult to get your fish into the boat. You'll have to reach further, and/or lift the fish higher with your rod.

A one-person pontoon boat puts you closer to the water, and allows you to work your way into nooks and shallows. But the bigger, taller ones can cause you to lose fish at the last second. Remember, it can be dangerous to lean over the side and fight with a fish. It's a good idea to take a fishing net with you to help safely secure your catch.
Poor handling

Pontoon boats have a pretty poor turn radius. They're not ideal for making sharp turns. You won't be able to fit a party barge style pontoon boat into a tight channel or cove. If you want a boat with a tight turn radius and ideal mobility, try a traditional deck boat. They offer better steering, and are easier to maneuver on the water.

They're not good for deep sea fishing

As mentioned, pontoon boats can coast over choppy water. But when it comes to big waves and rough waters, they are not the boat of choice. To get the best performance out of a pontoon boat, you'll want to stay somewhat close to land. You'll also want to avoid rivers and lakes on extremely windy, wavy days. It's good to be brave and try new things. But setting out into deep wavy water should be avoided at all costs. Pontoons can handle moderate water conditions, but are not designed for rough waters.

Now that you know the advantages and disadvantages of fishing in a pontoon boat, give it a shot—or don't. At least you'll know what to expect, and what to avoid while pontoon-fishing.