Pontoon Boat Prep: Before the Season Starts…
Pontoon Boat Prep: Before the Season Starts…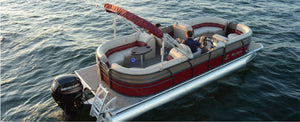 If you're like most pontoon boat owners, you're itching to get back on the water once the season starts. If you don't live somewhere with year round warmth, you may have stored the boat away for winter—but that doesn't mean you can't start preparing for the spring and summer season now!
Read on to see a few things you can do to get your pontoon boat ready for fun once the warmer weather rolls around.
 Make improvements
As boat owners, we're always looking for ways to make our next trip even better than the last. This might mean making improvements to your pontoon boat that make it more enjoyable for everyone on board. If you've been thinking about adding features such as a ladder, slide or tent cover to your boat, now is a great time to do it. By the time the season starts up again, your pontoon boat will be decked out and ready to go!
 Clean up your pontoon boat and make necessary repairs
There are, of course, practical issues you may need to take care of during your offseason time. If there are any repairs you need to make on your pontoon boat, now would be a good time to check those out and pick up the necessary parts you may need. If all your boat needs is a bit of freshening up, devote an afternoon to cleaning it up and getting it back to looking like new.
 Plan your next adventure
A fantastic way to keep yourself and your family occupied during the winter months is to plan your next adventure. Whether this is to a local spot or a bona fide vacation destination, everyone will enjoy having a say in the planning process. It's also a great way to keep your mind focused on the water fun you'll be having—without actually being on the water.
 Give it a name
If you have not yet given your pontoon boat a name, do it this winter! Every boat needs a good name, both for practical reasons—so help on the water can find you easily, should you ever need it—and fun ones. Every pontoon boat has its own unique personality, just like the people who use it, so be sure to give yours a name that sticks.
 Purchase your new pontoon boat
Like many boaters in search of a fun alternative to traditional powerboats, you may be considering purchasing a brand new pontoon boat this year. Why wait until the season's already underway to do it? The winter months are the perfect time to think about the style and design you want and get your new boat ready for fun on the water in 2018.
If you fit into this category, get in touch with us today! We can make your pontoon boat wishes a reality in time for the season ahead.
Can't wait to get back on the water? Try these ideas and hold on just a little longer—you'll be seeing fellow boaters on your favorite waterways in no time at all.