Grilling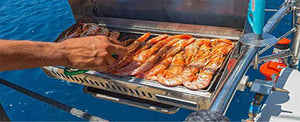 Best Pontoon Boat Grill – Your Top Choices in 2018
The summer is my favorite time of the year. To me, there is nothing better than basking in the sun on a hot day, enjoying cold drinks and good company. But here's the kicker: To make the day even better you must add food aspect to it. And not just any restaurant takeout food, but perfectly seasoned peace's of steak, or fish, grilled on the best pontoon boat grill you can find.
I will settle for a lot of things, but when it comes to grills there is no settlement, I demand the best grill that I can afford.
You must be wondering why:
Well, I am not the greatest cook in the world, not even close, so having the right grill makes it important because it does the work for me. What I mean by that is that I don't have to put as much effort into cooking in order for food to taste good.
Can it get any better than that? Of course, it can.
All you need is a boat. And not just any boat, you need a pontoon.
But aren't we risking a fire on the boat that can bring down your investment and ruin your day beyond repair? No, not a chance. Not in this day and age.
And here is why:
Today we can actually have a fully functional grill on board of the boat. Isn't that amazing? This has to be the best invention since Tesla defeated Edison with his AC power. Right?!
So how do you find the right boat grill for you? Here are a few things you have to think about.
Do You Know What to Look For?
Housing
The type of water you take your pontoon on will determine the type of grill you should consider getting. For salt-water, a 316-stainless-steel grill is always best. The reason being that it has a high tensile strength and is resistant towards corrosion.
This type is harder to find and pricier, but worth it.
If you are using your grill in freshwater, you can get away with using an 18-8 grade of stainless steel. This grade of stainless steel is more resistant towards corrosion, but not as strong as 316-grade.
What is most important is that no matter the type of grill, make sure it has a double liner. A double liner will protect the metal from getting discolored and guards against gas leaks. Also, a double-liner keeps the outside cool.
This is important to me because I don't want my daughter burning her fingers, oh no.
Shape and Size
Recently, many boaters have started switching to a square and rectangular-shaped grills. This is because they offer more cooking space. I think that kettle shapes or dome shapes reflect wind easier and keep the heat reflection different.
It all depends on your personal choice.
When considering size, rectangular grills tend to be bigger. It is important you think about your needs as well as the size of your pontoon. You do not want to get a grill small enough that you cannot cook for the whole family or, a grill big enough that you do not have enough space.
Fuel Choice and Features
One aspect that is all up to personal preference is your fuel choice.
Some people enjoy the smoky flavor of charcoal and some people like the ease of use of propane. It all depends on what you want. Keep in mind, that charcoal grills are a little cheaper. But, you will be spending some money on charcoal on top of this.
Another matter of personal choice is the type of mount. Do you want a free-standing grill or a grill that requires mounting to a railing? Keep in consideration that not all freestanding grills can be used on a grill and not all mounting hardware can be mounted to the rail.
Another aspect that can make cooking on your boat a much easier process is having a push button ignition. It makes it easier and safer to operate.
Warranty
You should always pay attention to warranty, no matter what you are buying. Buying a grill for your pontoon is not an exception.
The warranty gives you peace of mind and guarantees that money spent will not be wasted.
Now that we know a little more about this subject, let's discuss another very important aspect.
Safety!!
Some Safety Tips
Always follow manufacturer's recommendations, you are not grilling on land. Any mistake can be disastrous.
Don't be a rebel, rules are everywhere. If you are grilling at Marina, check to see if it's allowed.
Never grill with the boat in motion. A wave might knock your food off, or worse, a spark.
Always inspect it before and after use. Be particularly careful with propane grills as those can sometimes leak. If you think there might be a leak, don't use it. Fix it yourself or bring an expert to do it for you.
Don't leave your grill unattended.
Watch for embers, stop them from falling out.
Don't add lighter fluid while the grill is in use.
Avoid grilling around flammable materials.
Have a fire extinguisher ready close by.
Don't forget to turn it off once done the cooking.
Let it cool off, don't store it away while still hot.
Clean your grill after use, it's easier to clean now than next.
For most people, these are common sense things that are easy to follow, but sometimes we go against our best judgment. There are of course many reasons for that, one being alcohol, but try to be as diligent as you can.
Don't ruin everyone's day because of recklessness, and don't let anyone else ruin your because of the same reason.
Additional Common Sense Tips
Coat the grates with oil before using to prevent food from sticking to it.
Control grill temperature so you don't burn your food.
Use a meat thermometer if you have to.
use different tongs for raw and cooked food. I learned this in the restaurant business.
Don't rush to cook the hood, give it time to cook properly.
Allow your meat to get sear marks before turning it over.
If you can, avoid lighter fluid with a charcoal to get the best flavor.
Ok now, let's move on to the meat of the article.
Best Pontoon Boat Charcoal Grills
The best barbeques are made with charcoal, period. I don't care how well you can grill, there is nothing that compares to the smoky taste that charcoal can give you.
However, all this great smoky taste comes with the price. It takes a long time to prepare something with charcoal.
First, you have to light up the charcoal. I don't like to use lighter fluid so the lighting time is a little longer.
Then you have to wait for the grill to warm up.
Lastly, you have to let the fire down a little because you don't want to grill on high flames, it ruins the meat.
It is time-consuming, but I love it.
Now, here are the best charcoal BBQs on my list.
Magma Products Marine Kettle Charcoal
Magma is known for excellent grills and Marine Kettle Charcoal (Amazon Price) is no exception.
For starters, this is a good looking grill, especially when mounted on your boat. I love the mirror polished stainless steel construction look, it's brilliant.
With the assistance of a mounting set, you can easily mount this grill anywhere on your pontoon.
This grill also comes in different sizes, depending on your needs.
13 Inches – 133 square inches of grilling space.
15 Inches – 155 square inches.
17 Inches – 177 square Inches.
I always go for the biggest one, you never know how much space you will need, but you know best what works for you.
The stainless-steel design also makes it easy to clean. The plastic handle allows you to easily lift the top part of the grill.
As stated with many other grills, it does not come with mounting brackets.
However, this is one of the most attractive and efficient grills out there!
Marine Kettle Pros & Cons
Available in numerous sizes
Up to 177 square inches of grilling space
Aesthetically pleasing
Kuuma 58110 Stow N' Go 160
Another appealing pontoon grill is the Kuuma Stow and Go (Amazon Price). This grill is pleasing to the eye and can be mistaken for a household BBQ. It is constructed of 100% stainless steel and it is designed to use refillable gas tanks or disposable bottles.
This model does not require any assembly and is reasonably priced for the space that you get. With 160 square inches, you can easily cook meals for the whole family. It has a thermometer and igniter as well.
The biggest benefit is that it has a removable grease tray. With this, you can easily clean the grill and store it away.
Kuuma 58110 160 Pros & Cons
Priced well
Easy to use and unpack
Thermometer and igniter
Removeable grease tray
Does not include mounting brackets
When it comes to the Kuuma, the best part is the company offers this grill in both gas and charcoal. This allows you the freedom to choose!
Magma Products A10-703C Cabo Adventurer Marine Series Charcoal
Another Magma has made the list, and it's not the last one. Mirror polished stainless steel not only looks good but it's built for maximum corrosion resistance in the harshest marine environments.
It features 9" x 18" or 162 sq. in. grilling surface. An oversized lockable lid with draw tight latch comes with two variable temperature control draft door assemblies. It also comes with durable heat resistant all-weather plastic handle with air cooled support. 
A lower grille can easily be removed for cleaning while it's angled side walls keep briquettes in place.
Despite its good size, A10-703C Cabo Adventurer (Amazon Price) is surprisingly portable.
Cabo Adventurer Marine Pros & Cons
100% Mirror Polished Stainless Steel
Fold-Away legs
Dual draft door assemblies for temperature control
Portable and easy to clean
Can't be used if legs are folded
Serving Shelf Not Included
Best Pontoon Boat Grills That Run On Gas
Magma Products A10-918-2GS Newport 2 Infra Gas
A10-918-2GS Newport 2 infra gas (Amazon Price) is the best of it's kind. It is portable, durable, allows you to hook up a gas tank easily, and has 162 sq. in. of grilling space.
What is even more impressive is the dynamic combustion system that will keep your grill lit during a very windy day. I have heard of people saying the grill stays lit even during 15-20 knot winds. That is absolutely impressive.
With enough grilling space, you can use this it on a stable surface. It has foldable legs to keep it steady.
One unique feature of this grill is that it has a window thru which you can see the inside. You can also warm it up beforehand to your ideal temperature, depending on what you are cooking thanks to the hermetically-sealed temperature gauge.
Newport 2 Infra Gas Pros & Cons
Hermetically-sealed temperature gauge
Dynamic combustion system for windy days
Window to view food while cooking
Freestanding
Pricey for the quality
Requires a bracket to mount to the railing
Magma A10-801 TrailMate Conniosseur Series Gas
The Magma A10-801 (Amazon Price) is smaller than the one above at only 108 square inches of cooking space. However, it also is a bit less expensive while offering many great features.
It comes with an attractive stainless-steel design and the ability to free stand. Also, the gas can be mounted to the side as a portable propane tank.
TrailMate Conniosseur Series Gas Pros & Cons
Easily fits a portable propane gas tank
Does not take up too much space
Attractive design
Great price for the quality
Too small for bigger families
Purchase bracket set on the side
Magma Products A10-1225LS Monterey Infra-Red Gourmet Series Gas
Superior corrosion resistance and lasting beauty come from 100% 18-9 mirror polished marine grade Stainless Steel.
The Magma A10-1225LS Monterey Infra-Red Propane (Amazon Price) comes with new Infra-Red technology and incorporates an Anti-Flare screen system. This system creates intense evenly distributed heat which emulsifies food drippings and gives your food a great smokey flavor.
Additional features include secondary cooking area and sealed stainless steel thermometer. Also reliable piezo igniter, full-length handle, perfectly balanced lockable lid, and swiveling control/valve regulator for quick, safe fuel canister exchanges.
Magma Products Monterey Pros & Cons
Infra-Red technology with an Anti-Flare screen system
Secondary cooking area
Sealed stainless steel thermometer
Can attach larger propane bottle
Price
Right side of the grill gets hot
How Do You Pick The Best Pontoon Boat Grill For Your Needs
There are a few factors you should be looking at:
BBQ on a Budget
Remember that you will use this grill only a few times during the summer, don't be like me and overspend. Just because it looks good and has all these cool features it does not mean that it's better than others. The bottom line is, a grill is a piece of metal used to make food.
Boat Grill Usability
How are you going to use the grill? Do you enjoy cooking or do you grill just to eat? If you enjoy grilling go with the charcoal, otherwise go with the quicker cleaner gas or electric options. Gas is probably better in case you do not have electric power on you on your boat, you don't need to drag power generator around.
Portability
Are you keeping your grill on the boat or are you taking it home? If you are keeping your grill on the boat the size is not that big of a deal, but if you don't you should go with something small. Even a medium size grill will be a pain to transport.
What Do I Think Is The Best Grill
As I said at the beginning of this article I'm a foodie and BBQ is my favorite. I really love that smokey flavor of well-grilled steak or freshly caught fish.
Naturally, the choice should be a charcoal. Most likely Marine Kettle Charcoal Grill because of the large size and good looks. However, there is a difference between a boat and a backyard.
Yes, I have enough time to prep the grill and make food but do I really want to do that on the boat? Do I really want to clean the grill after the food is ready or do I want to enjoy the time with your loved ones? And is charcoal safe?
When I put all that on the paper I had to say no to charcoal. It was too much work and not safe enough for me.
So I decided that the best pontoon boat grill for us is A10-1225LS Monterey infra-red gourmet gas grill.
Yes, it's very pricey. And yes it's gas, but it does give a smokey flavor to food. And I simply love that.
I love the fact that it's large, easy to clean and can take larger propane bottle. And on top of all that it has a secondary cooking area. How awesome is that?
You might not agree with my choice and that is ok, we all have different preferences. Ultimately grill is not what makes you happy, it's family and friends that gather around that grill.
Now that you know what the best pontoon boat grill is maybe it's time to learn how to beach pontoon if you already don't know that.
I want to hear what you guys think about these BBQs. If you have bought a pontoon boat grill, which one did you get and what do you think of my choice?
By: Goran