houseboat campout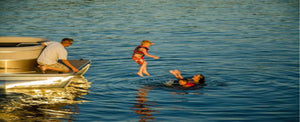 5 Ways to Enjoy Your New Pontoon Boat
We may still be in the midst of winter, but that doesn't mean we've stopped thinking about having fun on the water! In just a few months, the boating season will be upon us once again—and we'll all want new, exciting things to try once we hit the water.
In today's blog, we are looking at five ways to enjoy your new pontoon boat this coming season.
Pack a picnic
Of the best ways to enjoy an afternoon on the water is with a freshly packed picnic for the family. You can rest easy knowing that your pontoon boat has plenty of space for food storage and, of course, seating and tables to enjoy the picnic itself. The only thing you need to worry about is what food you'll be bringing!
For picnics on the water, light (but tasty!) meals and snacks are the best way to go. Prepare yummy sandwiches, do-it-yourself trail mix, fruit salads any other treats for yourself and all your passengers. Top it off with a few cool bottles of water and you're ready to go.
Throw a party
An on board party is a great way to celebrate a family milestone, birthday or simple get together with friends. Throw your own pontoon boat party by preparing music to play, providing fun games or activities for young kids, and gearing yourself up for plenty of fun.
Add a slide
For many pontoon boaters, the flat, stable deck is the perfect backdrop for a fun addition—a water slide! You can purchase a water slide made for attaching to the side of your boat. Watch your family and friends laugh in enjoyment as they slide from the boat into the water below. It's a great addition that's bound to provide hours of fun and laughs every time it is used.
Go camping
Few boats are as well equipped for a family camping trip than a pontoon boat. Take your boat somewhere special, whether it's a favorite lake or coastal marina spot—then set up camp! You can add an enclosure to your boat that serves as a sort of camping tent, giving you a comfortable place to snooze, change clothes or simply enjoy some shade while on your camping trip. In advance of your trip, be sure to pack plenty of snacks and dry clothes for your passengers. It's a unique experience everyone will enjoy!
Bring some water toys
Finally, for fun on your pontoon boat in 2016, don't forget the water toys! These can be anything from inner tubes to beach balls to higher-tech toys like wakeboards and water skis. These toys are fun for kids and adults alike, and can provide you, your family and friends with plenty of memories that will last well beyond your return to land.
Which of these ideas are you and your family going to try once the season starts back up? We hope this list helped you find inspiration for fun and adventure on your family pontoon boat.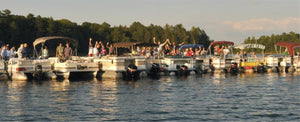 Party on the Houseboat | Pontoon-Depot
You know houseboating can fill your summer weekends with hours of fun. Fishing, swimming, maybe even tubing - it's all a blast. But this summer, think outside the box. Try something different, and start some new traditions.
Themed Dinner Party
I mean, you've gotta eat, right? And your houseboat is equipped with all the space and equipment you need to serve up something amazing. So get creative, and invite all of your friends. Host a five-course gourmet meal at sunset. Throw a Mexican fiesta - margaritas included, of course. Go nautical with the decorations and serve some delicious seafood. The choice is yours. There's just one rule: Have fun!
On-the-Water Block Party
Do your friends own boats, too? Get everyone together for a block party! On the water, have everyone motor to your favorite cove and tie up together. From there, kick back and relax just like you would at home. Plan some games - those that incorporate the water are especially fun.
For example, set up a bean-bag toss tournament with the boards on different boats. Miss the boat with your toss? You better jump in and get the bean bag!
When it's time to eat, set up different snack stations on different boats, or you could even hold a progressive dinner party. Appetizers on one boat, main dish on the second, and dessert on another. The options are really endless.
By the way, boat block parties work at the dock, too.
Houseboat Campout
Make a memory your kids will remember the rest of their lives - take the boat out and spend a night under the stars! Be sure you have plenty of graham crackers, chocolate and marshmallows for s'mores, and haul some sleeping bags and a small grill to the top deck. Find a quiet, sheltered spot and settle in for a night of old-fashioned fun!
With a little creativity, you can make this a summer to remember!