DIY Boat maintenance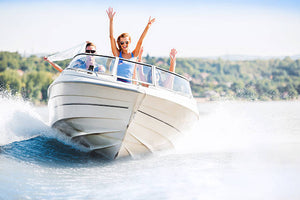 Fall Marine Drive Checklist
Fall Marine Drive Checklist
Published: Wednesday, September 14, 2022 12:00 pm
By: The Professionals of Henry H. Smith Co.
A version of this article appeared in the Fall (September/October) 2022 of Great Lakes Scuttlebutt magazine.
With the arrival of fall, our thoughts turn to football and apple cider, but before we forget about our boats, let's make certain we check it out very well and ensure we are ready to go at the first signs of warm weather in the spring.  Winterizing checklists make certain that all the items that can be damaged by the freezing temperatures to come are cared for, but what about the maintenance items?  Fall is a great time to identify them and make plans to look after them well ahead of the spring rush.
The checklist can be broken down into the key components of your drive and will vary depending on the specifics of your boat.  Outboards and I/O's are limited to the propeller and lower unit, while an inboard has a shaft, strut, rudder, and propeller.  Let's look at each one individually.

Propeller damage can be the easiest to detect because any significant impact displaces material and creates a bend or crack.  Vibration, cavitation, and performance issues are almost always obvious and are well known even before the boat is pulled from the water.  Other propeller damage and wear can be very difficult to observe and may need to be bench tested and measured to confirm.  Even without obvious damage, your propellers should be periodically inspected by a propeller professional to ensure you are getting the most efficient performance possible from your boat.  A certified NMPA (National Marine Propeller Association) professional is highly recommended to ensure the results are the best.
Lower units need to be evaluated for structural issues, particularly on the skeg, as it drags the lowest in the water but needs to be straight (unless designed with a curve, as some are) to ensure proper tracking and to avoid introducing cavitation ahead of the propeller.  Sacrificial anodes need to be inspected and replaced if worn to protect your drive from electrolysis.  You should also evaluate the gear case for the potential need for new seals or an oil change following your drive manufacturer's recommendations.
Inboard shafts should be inspected for straightness, especially if there were any unusual vibrations during the season.  Often propellers are seen to have obvious damage, but minor bends in shafting are not always apparent.  Shafts can also have anodes clamped to them, which also need to be inspected and replaced if worn.
Struts and rudders should be inspected for visual damage and bends.  These are susceptible to impact damage due to their position on the boat, and any such damage needs to be addressed.  The strut also has a cutless bearing with lands and grooves, which facilitate the shaft running smoothly on a film of water.  Any wear here can be indicative of shaft-engine alignment issues resulting in wear and vibration.
Whatever your boat's configuration, the key is to inspect and identify areas of concern and address each one so that you are ready to go at your first opportunity in the spring.  And spring is just one short winter away here on the Great Lakes!
About the Author
Founded in Detroit by Henry H. and William H. Smith, the company continues to employ 3rd and 4th generation members of the family, carrying on a legacy established in 1900 to be your Marine Drive Specialists.
This article is courtesy of greatlakesscuttlebutt.com visit their website for more articles.