4 Must Haves When Entertaining on a Pontoon Boat!
4 Must Haves When Entertaining on a Pontoon Boat!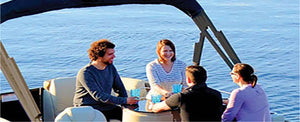 There are plenty of things to do out on the water, like fishing, sitting quietly, waiting for a good nibble, but what if you're an Entertainer?  What if your family and friends aren't into fishing?  What if you're bringing people out on your boat or pontoon boatwho just want to have a blast?
Here are a few things to bring when entertaining on a pontoon boat that are guaranteed to be a crowd pleaser: 
1. FOOD!!! 
Everyone loves to eat.  Always be sure to have tons of finger food handy to keep your guests happy.  Some easy to prepare and transport boat foods are:
A bowl of chips
A canister of popcorn (try the Chicago Mix! Guaranteed crowd pleaser)
Fruit and/or veggie tray
Hummus and pita bread
Guacamole and veggies
Crackers and cheese 
2. Music
Most boats are equipped with a radio or USB port for your phone or music playing device.  Nothing livens up a mood like good music.  Music tastes vary, but here is a list of top 10 "Boating Songs":
"Redneck Yacht Club" - Craig Morgan
"Come Sail Away" - Styx
"Don't Stop Believin" - Journey
"Pontoon" - Little Big Town
"Rock the Boat" - Hues Corporation
"Toes" - Zac Brown Band
"Copacabana" - Barry Manilow
"Boats" - Kenny Chesney
"It's Five o'Clock Somewhere" - Alan Jackson feat. Jimmy Buffet
"Kokomo" - Beach Boys
3. Games
There are plenty of games to play on your boat, some involving game pieces and some not.  Some obvious suggestions are things like 20 questions, eye spy and charades.  For an interesting challenge, though, here are a few board and card games that are easily played on a boat:
Cards - go fish, crazy 8s, rummy, Euchre, Hearts
Card Games -  Love Letter, Hypertheticals, Snake Oil, Mad Gab, Taboo, Super Fight, Apples to Apples, Dixit, Exploding Kittens, Fluxx, Munchkin, Uno, Codenames
Board Games - Trivial Pursuit, Headbanz, The Game of Things, Scattegories, Pictionary, Telestrations, Bang!, Boggle, Concept, Cribbage, Roll for it, Sherrif of Nottingham, Yahtzee
4. Good conversation
You're with friends afterall!  Pick a topic and see where it takes you. Here are some suggestions:
Your first concert
The best part of your home town
Famous people you've met
Your favourite book
The best restaurant in the city
The farthest place you've driven
Your next out of country adventure
These are just a few tips and suggestions, but hey, it's your boat!  You do whatever you think will make the best day on the water for you and your party!  Happy boating!