Pontoon Boat Apps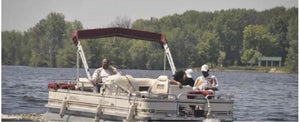 Bargain Pontoon Boat Wraps Not Always A Bargain
Does taking shortcuts for winter storage pay off?
By: Dan Armitage
As many of my fellow pontoon boat club members readied their craft for the off-season, I grew intrigued by the DIY, alternative and after-market solutions some came up with for protecting their boats and related gear. Some of these non-traditional apps are put into use by my resourceful fellow boaters during the boating season as well, and are of value for those lucky pontoon boaters south of the Mason-Dixon Line who don't know the meaning of "off" season and may enjoy their craft year-round.
For example, you will find covers intended for back yard use on chaise lounges and Adirondack chairs protecting the furniture of some members' boats. The patio furniture covers are less expensive than semi-custom covers designed for the job, wear well under typical conditions, and the fact that the generic one-size-fits-all covers don't fit all that tight allows air to circulate and the upholstery to breathe a bit, which can help prevent mildew in the damp environs the boats are subject to. And when conditions aren't typical, and a loose-fitting captain's (aka: Adirondack) chair cover goes gone with the wind, it's less expensive to replace.
If you've run across any non-traditional uses for items aboard a pontoon —or any other watercraft – we'd like to see 'em. Meanwhile, here are a few I stumbled across during a recent late-season walk around the local pontoon boat club – and one photo I snapped last winter that reminded me that going with cost cutting alternatives may not be the bargain you, well, bargained on…