Boat Trailing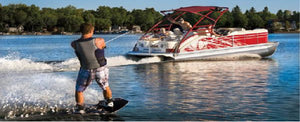 The Fun You Can Have on a Pontoon Boat...
By: My West Shore
There's nothing like a pontoon boat for a fun day on the water! 
A pontoon boat is one of the most versatile water crafts available to all kinds of water enthusiasts. It looks like a large platform with guardrails, canopy, seating, storage and, of course, a motor. In other words, a pontoon boat has space for people to mingle like in a living room. Except it's on water. And it moves!
Ideas for fun on a pontoon boat
Think that pontoon boats are a retired person's leisure craft? Think again! Pontoon boats are increasingly popular with people of all ages. Why? Because pontoon boats now come with more amenities and comfort. They're suited for a variety of activities, making it easy to stay entertained and engaged on short and long excursions.
Here are some ideas to help make your pontoon boat adventure a success:
Make it a party
The average pontoon boat holds about a dozen people. So, the next time you're ready to go out on the water, why not invite some friends and have fun on a pontoon boat?
Hosting a birthday, anniversary or engagement party on a pontoon boat is easy. Even the most basic models have ample storage for food and supplies, a sound system for music, plenty of seating, and even room to dance. You can string lights and other decorations — as long as they are secure and don't interfere with the vehicle's operation.
If you're invited to a party on a pontoon boat and aren't sure what to wear or bring, the National Marine Manufacturers Association's (NMMA) Discover Boating offers tips on marine manners. 
 Snorkel and swim
Pontoon boats are perfect for popping in and out of the water. The platform at the back makes it easy to jump in the water, even for kids. And the rails along the side are convenient for holding on to the outside of the boat, if necessary. Following open water swimming safety will help to keep the day fun.
 If you're in an area with lots of marine life, don't miss out on seeing them "eye to eye". Have snorkels and masks on hand for a little underwater sightseeing. 
Of course, ensure the engine of your pontoon boat is off before allowing anyone to swim, snorkel, or go in the water for any reason. 
Pontoon boat as games room
There will be times when friends and family can't or won't want to be in the water. Help them stay entertained and connected by taking along board games and other diversions. Try to avoid games with paper money and other pieces that can blow away. 
Instead, take playing cards, trivia games and social games like Boggle, Cards Against Humanity and travel Scrabble for your guests to play when the mood strikes. 
Fishing
The platform at the back of a pontoon boat is a perfect place for avid and casual fishermen to cast a line and relax. The ample storage gives you space for gear, bait and ice chests to keep your catch until dinnertime. 
Naturally, be sure all swimmers are out of the water before fishing from your pontoon boat. 
Quiet family time
Yes, you can invite a lot of people on your pontoon boat. But you don't have to. Sometimes it's nice to have a quiet day or afternoon with only your partner or kids. 
Being on a pontoon boat with only a few people gives you the best of both worlds. You can be together for activities but have enough room when people need a nap or a little space from each other. 
Advantages of pontoon boats
Not sure if a pontoon boat is the right water vehicle for you? Consider these advantages: 
Easy to use
 Learning to drive a pontoon boat is easy. The steering wheel works like it does in your car: turn clockwise to go right and counter-clockwise to go left. 
While contemporary pontoon boats can travel at a good clip, you always want to move at a slow speed when leaving the dock and navigating to open water. The same is true when you're ready to return. 
Most pontoon boats can move a fairly high speed but are not intended for rapid acceleration. But if you are going to push down on the gas, give your passengers fair warning so they can secure loose items, including themselves! 
Pontoon boats are very stable but they aren't exactly nimble. Avoid trying to make sharp turns. And, if you do, make sure gear and people are secure before making the turn. 
Easy to maintain
Pontoon boats sit high on the water. This reduces the chances of denting or otherwise damaging the hull. The same is true if you need to transport it on a boat trailer. It's good practice to raise up the outboard motor when loading the pontoon boat onto a trailer. But if you forget, it's usually not a problem because of the high clearance. 
If the hull does get damaged, it is generally faster and less expensive to repair compared to a traditional v-shaped boat hull. 
After use, pontoon boats don't need to be wiped down the way other gel-coated boats do. So, at the end of a fun day, you can take your pontoon boat out of the water and get on with land-based activities. 
Great for outgoings with kids — including teenagers
The best feature of a pontoon boat might be its size. With couches, tables, the platform at the back, covered areas and uncovered areas, kids can play on their own yet stay supervised. 
This is especially appreciated for kids who invite friends. They usually want some time away from the adults and room to be active. On smaller boats, everyone is always close together and required to stay seated most, if not all, of the time. 
In other words, on pontoon boats, kids can be more active and independent. This makes the outgoing more fun for them — and the adults! 
Comfort
It's more than the size of a pontoon boat that makes it comfortable. It's also that it's essentially a floating platform. Higher end pontoon boats may also have an upper deck but generally, they are one level. 
Having lots of open space makes it easy to take in views in all directions, spread out, and be active. Also, the amenities on modern pontoon boats are designed for comfort. Seating is usually upholstered. Tabletops make eating and playing games as comfortable as if you were in your own home. 
No matter your definition of comfort, lots of storage allows you to take along all the food, games, equipment and clothing you need to make your time on the pontoon boat enjoyable. 
Safety
Pontoon boats are by far the safest of multi-person water craft. In 2014, there were one-tenth the number of personal injuries involving pontoon boats, compared to open motor boats. 
The pontoons are what make this water craft stable. The safety of pontoon boats makes them a desirable option for anyone who enjoys being on the water. 
Storage
The storage on pontoon boats is outstanding. Its open design allows for a range of storage options for equipment, food and other supplies. Plus, marine craft manufacturers are continually maximizing the use of space and making improvements to match consumers' needs. 
Things to keep in mind
There's no doubt that it's easy to have fun on a pontoon boat. To help keep the entire adventure safe and fun, also keep a couple of things in mind: 
Turning radius
The size and shape of a pontoon boat gives it a wide turning radius. This means that tight turns are difficult or impossible. 
When entering shallow areas or areas with many other vessels — especially speed boats and personal watercraft like jet skis — leave yourself enough space to maneuver safely and follow general boating etiquette. 
Rough water
As mentioned, pontoon boats are very stable. However, in very choppy water and during significant storms, they can be dangerous. 
Because of its design, the front of a pontoon boat can easily enter a large wave instead of riding over it. It is also more difficult to navigate in rough water because of its size and structure. 
So, if there's a forecast for high winds or any kind of storm, the best way to have fun on your pontoon boat is to not take it out on the water that day! 
Conclusion
The versatility, comfort, and safety of pontoon boats make it easy to have fun on the water. Whether you're looking for the occasional excursion or a floating cottage to use every weekend, you can't go wrong with a pontoon boat.
If you want to dig a bit deeper and find out some more information come down for a visit as we have a large selection in stock and on sale – pontoon boats in all shapes and sizes.