water skiing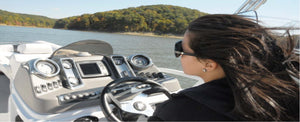 Women at the Helm | Pontoon Depot June 2018
By: PdbMagazine
I recently read an article that said only 23 percent of women ever put themselves in the captain position on their own boat and only 12 percent of watercraft are registered to females. Can that be right?
I promise you I'm not an over-the-top feminist but this seems a little off to me. To be honest with you, my husband gets in my way on the water, probably because our agendas are different. He sees the lake as one big fishing hole, but after a tragic fish hook to the finger accident where I had to be taken to the Urgent Care Center because I refused to calm down, I would rather avoid the sport altogether. Plus after 30 minutes of being on the boat with him, he's already interrupted me 31 times letting me know the part of fishing he enjoys the most is the silence. I can't handle just sitting there—not doing anything, not moving and just being bored. So while we enjoy each other's company for the most part, we don't agree about time spent on the water. The point of this story is that I don't depend on my man for stuff like this. Brace yourself for the motivational statement of the day: You don't have to either.
Women Do Own Boats
So I set my sights on finding a woman who owned her own boat. I reached out to our Facebook fans and asked if women felt comfortable operating their boats. When Pam Thomas from Algonac, Mich., responded with, "I own my own Manitou. No man needed to operate it, but they are certainly welcome aboard to serve me cocktails and clean," I knew I had to track her down.
Thomas shared some great thoughts with me on women in the boating industry.
"In this area many women do captain their own boats. If a woman likes to boat and can afford it, she should get one!" says Thomas. "It's just that simple. There's no reason why women should have to wait for an invitation to do what they love."
The area she's referring to is a canal in the Anchor Bay area of Lake St Clair. Thomas and her dog, Jazzy, boat around the Lake St. Clair Flats, the largest freshwater delta in the United States.
"I love the water, have been on or around it most of my life. Family members lived on lakes and had boats. As I got older, many friends had boats," says Thomas. "When I was married we were avid boaters. After my marriage ended I bought my very own boat, a Yamaha Exciter jet boat."
But when the jet boat was no longer appealing, Thomas set out to find her next boat. She knew she wanted a pontoon but wasn't quite sure which would be the best.
"I like to be an informed consumer; I thoroughly researched all pontoon makers," says Thomas. "I was looking for comfort on the water and the Manitou 22 Aurora VP met my needs.  My Manitou dealer, Bill Rose Marine, is right around the corner. Mark Santavy, my salesman, was very informative and made the purchase process easy."
Part of the appeal for Thomas was Manitou's V-toon technology. It allows for a smooth, stable ride through the rough water from the weekend boat traffic. She went with a 150hp Evinrude E-TEC motor to give her the speed she desired.
"The deck layout is spacious, comfortable and great for entertaining," says Thomas. "It's like having your living room on the water."
I ended our conversation by asking Thomas what advice she would offer other women looking to be more comfortable behind the helm.
"First, take a Boaters Safety Course to learn the rules," she replied. "Then you just have to do it! Get behind the helm; get comfortable with steering, maneuvering through traffic, and practice docking the boat."
That's great advice from someone who's been there. 
Do Some Research
I ran across a book called It's Your Boat Too: A Woman's Guide to Greater Enjoyment on the Water by Suzanne Giesemann. While the book is written from more of a sailing aspect, Giesemann addresses common fears and self-limiting attitudes that apply across the nautical lineup. She clearly outlines how everything on a boat is gender-neutral with this great statement:
"There is nothing on a boat a man can do that a woman can't. Well actually, I'm wrong. There is one thing. We can't pee over the rail. But considering that doing so can easily lead to a man-overboard situation, I don't recommend it for either sex. All other boating activities, however, are gender-neutral. Driving, docking, navigating, performing maintenance…you can do it all. You, too, can be an equal partner aboard your vessel."
Make A Day Out Of It
Doesn't a girl's day sound like a blast? If you are one of those women who don't feel as confident in the captain seat as you would like, keep your first outing small. Invite a few close friends that will be understanding of the learning curve. Depending on your locale, pack a picnic and take the ladies out for a day they won't forget.
Practice Makes Perfect
I've found over the years that the best way to learn is to just immerse yourself. You will get better. It's okay to be scared but you can't let fear dictate your life. Take the boat out for a spin by yourself when someone you know is available close by to help out if need be. Ask questions when you're out with someone who has more experience and be ready to take control. Even if you are comfortable with your current role, you may have to take over one day in the event of an emergency. If you are one of two people onboard and the other person loses consciousness, it becomes your responsibility to get to safety.
Now that you've read this whole story, I hope you don't feel like I'm a man basher. That is exactly the opposite of what I was trying to accomplish. I want both sexes to feel like they are on an equal playing field on the water. Except for my husband, just because I'm sure he didn't make it to the end. He probably got through the first paragraph, read the part about my horrific fishing accident, rolled his eyes and then turned the page. So I can freely tell you that I'm confident I have a better understanding of the technical aspect of boating. Yes, he's rebuilt an outboard before but I can define "displacement." And since there can only be one captain, I guess it's me. Yay for being female.